Kris Allen On His Returns To 'American Idol' Thursday: 'It's Not About Me'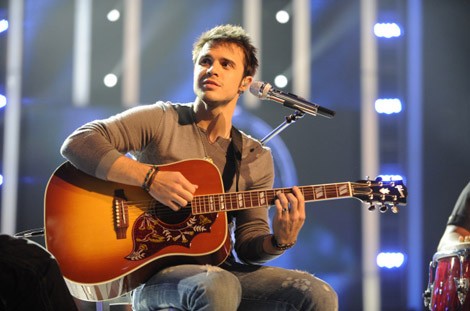 Thursday evening brings the first live results show back to
American Idol
for this ninth season, but more than that, it brings the return of
Idol Gives Back
, a mega-hit in 2008 and that was all but forgotten last season.
The very special episode was thrown together a bit hastily in response to the devastation in Haiti after the earthquakes earlier this year. On the behest of Simon Fuller, season 8 winner Kris Allen went down to Haiti to witness the devastation for himself and will return to the Idol stage on Thursday to perform and premiere a video package of his time helping the UN with their relief efforts down in Haiti.

Allen's trip was a whirlwind: he left last Friday and only got to spend about nine or ten hours in the country. While he dug through rubble and handed out food, water, and clothing and all of the "hard labor" work, Allen said the most lasting memories for him came from just getting to spend time with the people who were affected. "For me, it's always the kids, you know? I got to go into this women's tent, and it felt like a really safe place. They were taking care of the babies, which were, like, from newborn to two, and I got to sing a song for them and hold a couple of babies...There was a lot of happiness and hope in people's eyes; it was a really cool experience."

What also stuck out in great detail for Allen was just how much still needed to be done about proper shelter for the people of Haiti. Right now, everything is divided into tents, which will not provide proper protection when the rainy season-which is due shortly-hits.

And Allen lending his name to charity does not begin and end with Haiti. In the past he and his wife have taken quite a few mission trips, and he even visited Thailand after the terrible tsunami a few years back. Allen found a lot of similarities between Thailand and Haiti in terms of the level of destruction and yet the sense of hope from the people. "They know everything is going to be okay. It's going to take a long time but everything is going to be hopefully better than it was," he says. Allen will also travel to Rwanda this spring with the Toms Shoes Foundation and hopes that he can return to Haiti to help even more when he has a little bit more time.



For now, though, he is focusing on his immediate return in front of Simon, Randy, and Kara. When asked how he feels about stepping in front of the judges once again, he is quick to point out that "It's nerve-wracking!" But if he was ever going to come back-- to perform or mentor or just visit-- Allen is glad it could be to help the UN raise funds for such a good cause.

"This is for a completely different thing; it's not about me at all. Every time I was on that stage last year, it was about me, and this time it's not. It feels like a really good thing to come back for."

And just what will Allen be performing on Thursday night: the cover of "Amazing Grace" he performed for that children's ward in Haiti or "Live Like We're Dying," the first single off his debut album that has even more significance when put up against such a serious backdrop? Keeping coy at first, Allen teased that whatever the song was, it was very "inspirational and uplifting." He should have added "beloved across generations," though, as just a few minutes later he revealed it would be The Beatles' "Let It Be."

Allen also previewed that the performance will be available on iTunes with the proceeds benefitting all the good, hard work the UN is doing down in Haiti. Throughout the show, fans will also be able to text donations in to a very specific number. While item donations are welcome, too, right now, money is still the most effective asset someone can give, as there are many, many Haitians who have lost not just their homes, possessions, and family, but also their jobs and will need help with basic survival until things are begun to be rebuilt.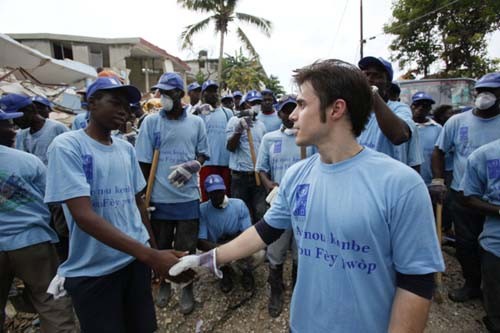 Of course Allen has been too busy to watch the current season of Idol and try to formulate an opinion on any possible frontrunners, but his advice for each and every one of them is the same: "Just go out and do your best. It's a pretty general thing to say, but I think they need to hear that. Just go out and do what you do!" Spoken like a true artist!



Story by Danielle Turchiano

Starpulse contributing writer