Kraftwerk To Stage 3D Shows In New York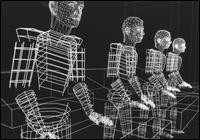 German electronic music pioneers Kraftwerk are to perform their eight albums one night after the other as part of a 3D spectacle at the Museum of Modern Art in Manhattan, New York in April.

The Kraftwerk-Retrospective 1 2 3 4 5 6 7 8 series will be held over eight consecutive nights, according to Billboard.com.

The Tour de France hitmakers will play through an album in its entirety each night before a state-of-the-art 3D backdrop.

The band will perform the tracks from their first album Autobahn on April 10th.