Korn's Jonathan Davis Undergoes Bomb Disposal Training With U.S. Troops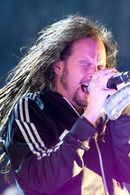 Korn frontman Jonathan Davis was given a crash course in bomb disposal during a morale-boosting visit to U.S. troops in Germany.

The rocker recently met military personnel stationed at the Ramstein Air Force Base in Rheinland-Pfalz and during the trip he signed autographs and posed for pictures, and spent time with injured soldiers at a medical facility.

The troops also had a special surprise for Davis - they put him in an explosives-proof suit and taught him how to use a bomb disposal robot. The test involved learning to pick up an egg with the robot's claw and place it safely into a bowl.

U.S. Air Force Master Sergeant Jocelin Borisow tells Blabbermouth.net, "Basically, back in June/July of last year when Korn were in Korea, Jon asked me where he could go to hang out with troops..."

"When I found out that Korn were going to be on tour in Europe, I asked him if he was still interested in visiting the troops, and he said that he was."