Korn Singer Jonathan Davis Says Barack Obama Became A Dictator Thanks To Miley Cyrus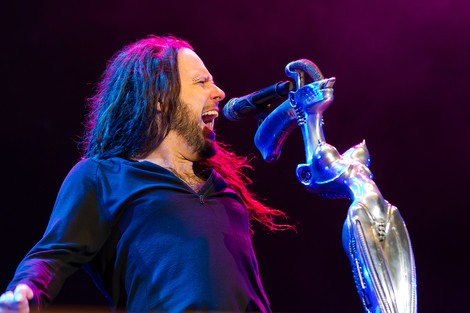 Jonathan Davis, lead singer of rock band Korn, had a few interesting things to say when asked about his group's latest music video.
Davis told a TMZ cameraman, "We just basically wanted people to wake up, to see what's going on.
"I think that our government uses those people [celebrities] to distract from what's really going on… that whole thing with Miley Cyrus at the VMAs, When that went down, Barack Obama passed a law that made him basically a dictator… he can imprison whoever he wants, he doesn't have to charge them, he can hold them for as long as he wants."
The music video for "Spike In My Veins" features pop culture stories alongside news footage of riots and NSA surveillance. Video of Miley Cyrus, Justin Bieber, and Toronto mayor Rob Ford are used extensively as a backdrop to the band.