'Knight Rider' Movie Greenlit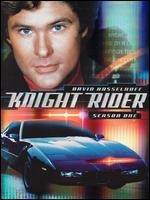 Classic TV show
Knight Rider
is to be made into a movie. Hollywood bosses have given the green light to a big screen adaptation of 80s series and insist it will stay true to original program rather than going for laughs like other film versions of TV programs.
Creator Glen A. Larson said: "A number of people wanted to do a pure comedic send-up of it, but I always felt that would throw away the franchise. There was always some humor on the show, but this film will probably have more gallows humor."
Knight Rider - which made a household name of
David Hasselhoff
- centred on the story of a police investigator shot in the line of duty who was nursed back to health by a mysterious millionaire.
After his recovery, the officer is given a new identity, Michael Knight, a new face and a new car and sets out to get his revenge on the criminals who left him for dead.
Filming is due to start next year. It is not yet known whether or not Hasselhoff will make a cameo appearance in the movie or if
William Daniels
will reprise his role as the voice of super car 'K.I.T.T'.