K'Naan Upset Over Mitt Romney's 'Waving Flag' Use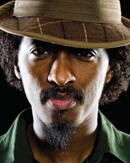 Rapper/singer K'Naan has hit out at presidential hopeful Mitt Romney for using his song in a campaign speech without permission.

K'Naan, real name Keinan Abdi Warsame, was not pleased after Romney played Waving Flag at an appearance in Florida on Tuesday, and admits he would never have given the Republican candidate his consent.

He says, "I have not been asked for permission by Mitt Romney's campaign for the use of my song. If I had been asked, I would certainly not have granted it."

Nevertheless, the Somalia-born star would gladly allow sitting President Barack Obama to use the track in his re-election campaign.

He adds, "I would happily grant the Obama campaign use of my song without prejudice."