KISS Stars Salute Paul Stanley On 60th Birthday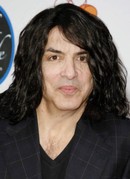 KISS rocker Paul Stanley was given an extra special treat to mark his 60th birthday on Friday - his bandmates went online to celebrate the star's age milestone.

The musician's pals took to the official KISS website to share their own touching tributes with fans on Stanley's big day.

Gene Simmons writes, "Paul, my very best wishes on your birthday. You're the brother I never had. You've always been there. For me. For the band. For the fans."

Eric Singer also marked the landmark, writing, "Paul Stanley, Happy Birthday to the Grand Master of Ceremonies! Your (sic) still the best and I wish you only better days ahead."

Tommy Thayer adds, "Happy Birthday Paul! You're a great friend & a brother in arms.. We just made a kick-a** album together and had a great time doing it. You are THE rock & roll champion! Happy 60th!!"