KISS Invades And Shirtless Donald Driver Wows During 'Dancing With The Stars' Rock Week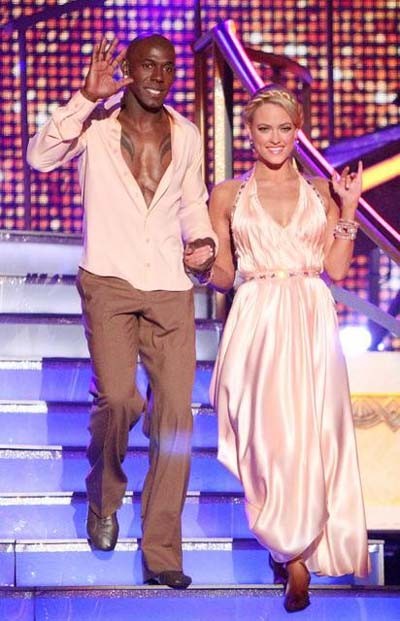 KISS invaded the ballroom, and kicked things off with a rocking start for week four! This week the stars were asked to channel their inner rock star, and they did just that, by dancing to classic rock tunes, sporting black leather outfits and hairdos that were just big and wild. The dances of choice for the night were the tango, paso doble, Viennese waltz and jive, which seemed to be a challenge for even some of the best dancers.

However, there were several highlights including Donald's amazing shirtless performance of the paso doble, which Carrie Ann said was by far "One of the most memorable of the season." Roshon's graceful Viennese waltz, which made Len say what the Disney star revealed that he wanted him to say in rehearsal, "Good job dawg." And, Melissa's performance that judges said was her best of the season; which unfortunately led to an injury where the star had to be rushed to the hospital. Bergeron said that an update would be given tomorrow during the results show.

Although there were a few ups and downs, overall last night was another amazing evening. My favorite performance of the night was by far from Donald, and as for the elimination I think that Gavin or Gladys will be sent home. What about you?
Here is a detailed recap, which includes the dances, scores, songs, judges response and my thoughts for each star. Let me know what you think down below.
1. Sherri Shepherd (Actress, Comedienne and TV Host) & Val Chmerkovskiy
Dance: Tango
Song: Quiet Riot- "Cum On Feel The Noize"
Scores: 7, 7, 7
Judges: Carrie Ann said it was good, but it was lacking your normal exuberance. Len said for the past couple of weeks you didn't have dances that suited your personality, but you did well. Bruno said you did a lap dance for me, but it was hard to see your personality in the dancing. But overall, it was good.
I think that Sherri did well, but unlike her other performances, this one seemed to lack personality. This was my least favorite dance from her this season.

2. Katherine Jenkins (Singer) & Mark Ballas
Dance: Paso Doble
Song: Muse- "Time Is Running Out"
Scores: 8, 8, 8
Judges: Carrie Ann said she appreciated the intensity, but thinks that it threw Katherine off. Len said you went for the attack and it was fierce, but you forgot about the artistry. Bruno said we got Katherine on kick ass mode unleashing fury. You're a great dancing, but it wasn't clean.  

I love the chemistry between Katherine and Mark, they seem like they have been dancing together for years. But, I have to agree with Carrie Ann. Katherine focused so much on the intensity, that it seemed to throw her off a little.

3. Jaleel White (Actor) & Kym Johnson
Dance: Tango
Song: The Rolling Stones- "(I Can't Get Know) Satisfaction"
Scores: 8, 7, 7
Judges: Carrie Ann said I loved it. It was just something funky and weird about it. My only advice is less smoothness. Len said I liked the humor you put into it, but it needed more attack. Bruno said I loved the Jagger in the beginning, but you need more drive and power in the footwork.
Jaleel is very smooth and suave, but at times he seems to be just a little too relaxed. I would like to see the energy and intensity that he brought out in his very first performance again.

4. Melissa Gilbert (Actress, Writer and Producer) & Maksim Chmerkovski
Dance: Paso Doble
Song: The White Stripes- "Conquest"
Scores: 7, 8, 7
Judges: Carrie Ann said I thought it was your best performance by far. When you're in hold you don't consider yourself equal with Max, but you guys have to find balance. Len said I liked it. I was concerned, but you came out with confidence and attacked the dance. Looking forward to seeing you do one of the slower dances. Bruno said loved the flavor of Spain, but you messed up the ending.
Each week Melissa seems to improve and gain more and more confidence. It's unfortunate that she was rushed to the hospital. I'm hoping that she will be okay.  

5. Donald Driver (NFL Football Star) & Peta Murgatroyd
Dance: Paso Doble
Song: Jimi Hendrix- "Purple Haze"
Scores: 9, 9, 9
Judges: Carrie Ann said what the hell did I just see? This had to be one of the most memorable moments of the season. Len said I never thought that I would be so happy to see a man with his shirt off. No one can accuse you of holding back. Donald without a doubt that was your best dance. Bruno said great guns Donald. Muscular, masculine and magnificent.

Donald knows how to work it, and his performances get better and better each week. Also, the chemistry between him and Peta is amazing, and always really hot. I would say that last night belonged to the pair.

6. Gladys Knight (Singer and Songwriter) & Tristan MacManus
Dance: Tango
Song: Queen- "Bohemian Rhapsody"
Scores: 7, 6, 7
Judges: Carrie Ann said it was by far your most ambitious routine, but I felt like it just didn't all come together. Len said good job. I thought you coped well with the difficult music, but you have to work on your posture. I would say that it was not your best dance, but also not your worse. Bruno said it lacked attack, but you did a great job.

Gladys may not be the best, but I have to give her an "A" for effort. Each week she comes out and tries very hard, but at this point, I don't think she has what it takes to be a top contender in the competition. If she doesn't go home this week, I would say that she will be gone by next week.

7. William Levy (actor) & Cheryl Burke
Dance: Jive
Song: Twisted Sister- "We're Not Gonna Take It"
Scores: 7, 7, 8
Judges: Carrie Ann said you have something special, but you have to watch the routine and stay focused. Len said it is what it is. You have to nail the routines. Bruno said your performance always rocks the house, but you went off a few times. Tonight wasn't good as usual.  

Last night would have been a great evening for William to lose his shirt, because the night just wasn't his. The performance was very awkward and he seemed to be all over the place. I would say that this was my least favorite from him.

8. Roshon Fegan (Disney Star) & Chelsie Hightower
Dance: Viennese Waltz
Song: David Cook- "The Time of My Life"
Scores: 9, 8, 9
Judges: Carrie Ann said it was like a disney movie. Out of all the men I think you are the best dancer. Len said good job dawg. I thought you performed it with style and finesse. There was a little stumble, but as I said in the start, good job dawg. Bruno said you're flying so high you can touch the sky. I really love how you extend yourself. Elegant and refined.

Another amazing performance from Roshon, I love how he uses his long limbs to his advantage.

9. Maria Menounos (Actress, Author and TV Host) & Derek Hough
Dance: Tango
Song: Alice Cooper- "School's Put"
Scores: 9, 8, 9
Judges: Carrie Ann said you guys have such incredible energy and I can't take my eyes off of you. Every move you made was great. Len said out of all the ladies you have the best posture and hold. Bruno said beautiful. That for me was brilliant.

Maria is a tough cookie. Last week she danced with a broken rib and this week with a fractured foot, so you have to give this gal tons of credit for not quitting. I hope to see her as one of the final stars in the competition.

10. Gavin DeGraw (Singer and Songwriter) & Karina Smirnoff
Dance: Tango
Song: The Rolling Stones- "Paint It, Black"
Scores: 8, 8, 7
Judges: Carrie Ann said I felt like Johnny Depp was on the floor. Your posture was a little strange, but overall I say it was good. Len said I liked it. It had flair and attitude. I didn't like your posture, though. Bruno said you were very determined and focused, but your frame was bad. Also, your turns seemed to be a bit messy.

Gavin has an amazing spirit and is very likable, but this week just might be his week to go home. For the past couple of weeks he was showing signs of improvement, but last night was just horrible for him.
Check out KISS' performance from the show!