Kiss' Gene Simmons Blasts Hall Of Fame Omission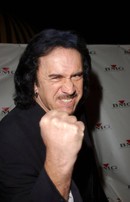 Outspoken Kiss rocker Gene Simmons is angry the band has never been inducted into the Rock and Roll Hall of Fame, branding the snub a "joke".

This year's induction ceremony includes Guns N' Roses, Beastie Boys and the Red Hot Chili Peppers - and the decision to omit the legendary '70s rockers yet again rankles with the band.

Simmons tells Rolling Stone magazine, "It's become a joke. We've been thinking about it and the answer is simply, 'We'll just buy it and fire everybody.' In all seriousness for the fans, for something to be called Rock and Roll Hall of Fame is such an insult to Madonna, Blondie...

"Who the f**k knows what other disco act is in there? It's an insult to them because they don't get to be in the 'Dance Hall of Fame,' because that's what they do. They're legitimate dance, disco artists. They don't belong in rock and roll."

KISS frontman Paul Stanley agrees with his band mate, adding, "The Rock and Roll Hall of Fame has reached a point where they're really scrounging and scratching to find someone left that they consider viable."

"With all due respect, when you get to Patti Smith you're about two steps away from Pete Seeger."