KISS Are Comic Book Stars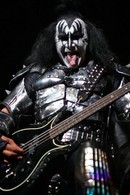 Gene Simmons and his KISS bandmates have been forever immortalized as comic book stars.

The rock group recently partnered with Archie Comics to launch a new four-part series, called "Archie Meets Kiss," which is set to hit stores this November.

The new collection is said to follow KISS on an adventure as the band helps the Archie regulars protect their town from an invasion of monsters.

And although the band is often characterised by its lewd, X-rated behavior, Simmons feels confident the illustrations of his trademark look won't be offensive to the publication's young fan base.

He tells the New York Post, "KISS is all things to all people... A five or 10-year-old fan doesn't look at the lascivating (sic) nature of my tongue the same way someone much older would - such a thing is not obvious to a five-year-old, and nor should it be."