Kiss And Mötley Crüe Donate $50,000 To Operation Homefront Charity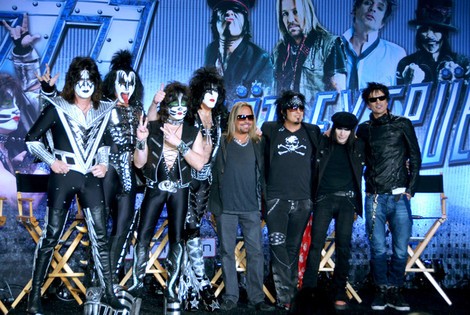 Rockers Kiss and Mötley Crüe have shown off their generous side by donating $50,000 to a service members' charity championed by Tim McGraw.

During their joint show in Nashville, Tennessee earlier this week, the bands announced they are handing the cash over to Operation Homefront, which offers emergency financial aid to families of soldiers and wounded troops.

McGraw launched a nationwide program with the organization earlier this year, pledging to donate a mortgage-free home in each city on his summer tour, and the country star accepted the check on the charity's behalf from the rockers.

KISS frontman Paul Stanley says, "The freedom we all enjoy and may take for granted is only made possible by the brave servicemen and women who chose to put themselves in harm's way to protect this great country. Tim's work for Operation Homefront... is a great example of how those in our position can show our appreciation while also urging all Americans to contribute on whatever level they can and KISS is proud to support this worthy cause."

Motley Crue's Nikki Sixx adds, "We wanted to give back to the servicemen in need. They are the ones who bravely go out to defend our freedom so the least we can do is support them and their families when they return. We are grateful for the opportunity to partner with our friends KISS to donate money. Hopefully it will help create awareness and inspire many others to follow suit."

It is the latest donation for American troops from the bands - in July, they handed over $250,000 to bosses of the National Chamber Foundation's Hiring Our Heroes, an initiative aimed at reducing unemployment among U.S. military veterans.