Kirstie Alley's Twitter Account Hacked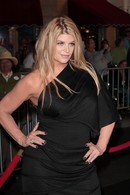 Actress Kirstie Alley is cleaning up her Twitter.com account after her blog was targeted by internet hackers.

The Look Who's Talking star is a regular on the social networking website, but followers were surprised to see a number of odd posts on her page earlier this week which appeared to have been re-tweeted by Alley.

The actress spotted the unauthorized messages and promptly had them removed before calling on Twitter officials to investigate.
Her friend Kelly Coleman took to Alley's blog on Thursday to notify followers of the illegal activity.
 
In a series of posts, she writes, "Hi this is @Kellcoleman ....Kirstie's twitter account has been hacked and any tweets RT (retweets) from her in the last 48+ hours R (sic) hackers. Fixing now.

"K is alive and well and will be back soon. She loves you all."