Kirsten Dunst Reveals Her Mysterious New Film 'All Good Things'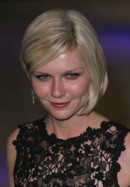 So much has changed since we last saw Kirsten Dunst. Back then she was still Mary Jane in the Spider-Man series which was supposed to have a fourth part. Now Dunst has four films coming out, but the new Spider-Man isn't one of them.
All Good Things is in theaters this week. Based on an unsolved crime, Dunst plays the subject of the investigation. In the film, David Marks (Ryan Gosling) marries Katie (Dunst) but grows distant as his family business sucks him in. Katie goes missing, but her body was never found and David could not be convicted of murder.
Next year, Dunst stars in the romance Upside Down, the Lars Von Trier film Melancholia and Walter Salles' adaptation of Jack Kerouac's On the Road. All Good Things brought Dunst back in front of the media, while she promoted the film before Thanksgiving.
Q: Are you that girl that's flipping through channels and sees Unsolved Mysteries and says, "Okay, I gotta see what happens?"
Kirsten Dunst: I don't think I watch enough TV to get into it. When I sit on the couch with my grandma, we definitely get into some Law and Order and CSI and stuff, but I'm not an aficionado of true crime.
Q: When you do a movie like this, do you try not to have an opinion on whether he did it or not, or can you even not have an opinion?
KD: I went into it feeling like, towards the end there when I go back in the house, I wanted to make sure I wasn't a victim throughout the film. Andrew and I really talked about this, because he didn't want me to bring in the shovel, but I was like, "I have to bring in the shovel, I have to go in there, like, I'm going to kill him." That's how I wanted to it to be. I don't know what happened, but yes, I think he probably killed his wife, otherwise the family would have helped find her. This big corporation with all this money helped her family none whatsoever? Their daughter-in-law? Why wouldn't they help find her?
Q: Did you know this story and how did you research the role?
KD: I didn't know it. Part of the reason I think not a lot of people knew about it is because it kind of got shoved under the rug, and also in terms of research, [director] Andrew [Jarecki] did a documentary about everything that happened before. I saw that a year before we even made the film. He had gone and researched and interviewed anyone who was willing to talk about what had happened; from neighbors to anyone who was around. I also met with her brother, who's also portrayed in the film. I had dinner at the family's house and everything.
Q: That's interesting. What did they say to you?
KD: It's hard. They've lost their family member and they never had the satisfaction of knowing anything. I think that they're relieved, or there must be some closure somehow, to know her story's getting out there again, in the possibility of that. I don't know if the case could reopen. I don't know what could happen, but I just think that I know they were happy with me playing her. I just listened to them. They're the ones this tragedy happened to, so I didn't ask too many questions.
Q: What were the things they told you about her that maybe weren't right there in the script that you wanted to carry into your performance?
KD: I met what would have been her niece, and they always said, "Oh, she looks so much like the real woman who went missing." From what I can tell, it's difficult asking family members because all they say they love her, she was so bright, she was so beautiful, she'd light up a room, all these things. Obviously when you're in love and you're glowing and all those first feelings, I think that they're happy with my portrayal of her, and I think it was in the script. All the things about her going to medical school, trying to make whatever happened work, I think her decisions were the way the script portrayed her and the way that I played her. I didn't want her to be at all victimized. Every decision she made, you might think he made that for her, but then I would turn it in my own mind, because I really didn't want to play it in a way that women in the audience feel like, "Get out of there! What are you doing?"
Q: Was it hard to get into her mindset?
KD: It's hard on certain subject matters, because I was trying to think about this abortion scene a lot, and it was something that his character decides. "You're not going to have this baby." So in my mind, I thought, "Okay. How can I make this so it can be my choice and I'm not just succumbing under his rule?" I thought I wouldn't want to bring a baby into this marriage. It's really not going well, I'm young enough, I can have another child with somebody else, maybe somewhere down the line, or maybe he's just not ready right now in his life, a lot of things have happened. So I tried to not cry or play oh, poor me, because that would be really boring, and you just would feel like, "Just leave and have your baby." But she also didn't have the means, and it was a different time, and she didn't come from money. She couldn't have been a single mother so easily, like we have the options to now.
Q: If it were your own life, when would you have said something's not right here, I gotta go, because the signs aren't really good here?
KD: I don't know. That's an enmeshment that's so strong. I think every woman goes through the relationship where she's with the guy that's really not right for her and you kind of get lost in it. I think that signs happen pretty quickly, and you can be into something that's not the greatest for you, but if you're in a point where you're married and you're already away from your family because there's this money, or you're living in Vermont, and all these things, she kind of was isolated in Vermont. She didn't have many friends or anything like that, so I think that I'd never gotten to that point of enmeshment that I couldn't see out of it.
Q: What kind of place are you in your career right now where the roles you're choosing like this, you have a Jack Kerouac movie coming up, and you're doing a Lars von Trier movie?
KD: Yeah, I just did that movie over the summer with Lars. I was just like, "You want to work with Lars Von Trier?" "Oh yes, please, of course!" I want to work with great directors, and Walter Salles, I love, I'm working with him on On the Road and that shoots in a couple of weeks, my part of it. I don't have any plan. I'm not very "I only want to do serious films," or something like that. I did Upside Down too, which was romantic and fun as well, over the spring.
Q: It sounds like you've been busy. Is something you intended on? Did you just pack up your schedule for a while and just kept on working?
KD: No, actually. We shot All Good Things two years ago. In those two years, I waited for a year, I just read scripts and waited, then I took Upside Down last spring, then I had a couple of months off in the summer, then I did Lars's movie for two months, then I've had off since like September, so I just have a week of work, then I'm open. I have yet to find what I'm doing next.
Q: What are you going to be playing in On the Road?
KD: I'm playing Carolyn Cassady, the role that's Camille in the book.
Q: Were you a fan of the writing, of Kerouac books?
KD: I was a fan of On the Road, but mostly because I had a crush on a guy when I was fifteen or sixteen, so I read the book. It's so poetic, the way it's written, but it's definitely more of a masculine connection, I think, for a reader. I was more of a Sylvia Plath [reader.] I was more into the female version of that. Female roles in On the Road were smaller than the books that I'm usually interested in.
Q: Do you have a favorite literary role you'd love to play, or any book to movie adaptations you'd like to be in?
KD: A lot of them have already been made. I can't think of one right now.
Q: Was Little Women one?
KD: Little Women was one, yeah. That was exciting to do. That was always one book growing up that was so special. I thought we made a good remake of that.
Q: Having grown up and working in the business, what do you like about it now, as opposed to when you were a kid?
KD: I think that the way I work has changed. My style of working, what I do before I do a film, and just being on a film set, I just feel so much more free and fearless than I ever have been, because like, there's film in the camera, or there's tape in the camera, whatever it is we're shooting on these days. I felt especially after working with Lars too, a sense of anything goes, really. Of course you have to be in the right place emotionally. He would film the rehearsals, just film us walking around the room wherever we wanted, whatever we wanted to do, which can be scary for some people, but it was so exciting and just opened up a whole new way of the way things could work.
Q: You grew up in the San Fernando Valley, right?
KD: I grew up in New Jersey and also Toluca Lake. I went to high school in the Valley, Sherman Oaks. I still live at my mom's right now. I don't have a house in L.A. anymore, I live in New York.