'Kinky Boots,' Women Top The 2013 Tony Awards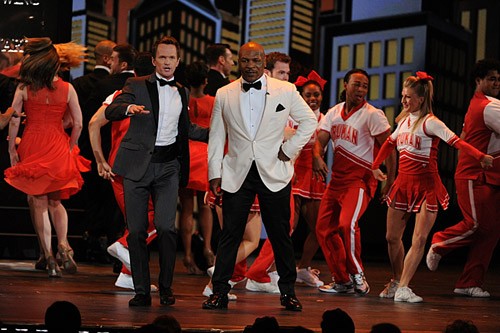 In a decidedly-positive Tony Awards, women and men who dress like them were the bells of the ball.
The collection of Broadway plays up for awards included several dramatic choices, but it was the lighthearted fare that ended up on top this year.
The feel-good musical "Kinky Boots" won six awards, the most of the nights. The haul included Best Musical in a slight upset over the darker "Matilda," as well as Best Original Score (which was done by Cyndi Lauper). The comedy Vanya and Sonia and Masha and Spike won best play over its dramatic opponents.
The women behind the plays performed a rare feat, nabbing both Best Direction of a Play and Best Direction of a Musical.
Perhaps the night wasn't so happy for Hollywood stars, who were kept out of Broadway's awards. After big names like Scarlett Johansson were snubbed in the nominations, Tom Hanks lost out to Tracy Letts for Best Actor.
Speaking of Hollywood, host Neil Patrick Harris had a few subtle digs at the big shots out west during his enthralling, show-starting number that even featured Mike Tyson for a few moments. After poking fun at Shia LaBeouf for "turning down the hosting job" in a subtle reference to his fallout with Alec Baldwin in the Orphans production, Harris asked for his "Tom Hooper Les Miserables close-up" before announcing, "See, on Broadway we don't need extreme close-ups to prove we're singing live." You can watch the full, eight-minute performance above.
Check out the full list of Tony winners below:
Best Play: Vanya and Sonia and Masha and Spike
Best Musical: Kinky Boots
Best Book of a Musical: Matilda The Musical
Best Original Score (Music/Lyrics) Written for the Theatre: Kinky Boots - Cyndi Lauper
Best Revival of a Play: Who's Afraid of Virginia Woolf?
Best Revival of a Musical: Pippin
Best Performance by an Actor in a Leading Role in a Play: Tracy Letts - Who's Afraid of Virginia Woolf?
Best Performance by an Actress in a Leading Role in a Play: Cicely Tyson - The Trip to Bountiful
Best Performance by an Actor in a Leading Role in a Musical: Billy Porter - Kinky Boots
Best Performance by an Actress in a Leading Role in a Musical: Patina Miller - Pippin
Best Performance by an Actor in a Featured Role in a Play: Courtney B. Vance - Lucky Guy
Best Performance by an Actress in a Featured Role in a Play: Judith Light - The Assembled Parties
Best Performance by an Actor in a Featured Role in a Musical: Gabriel Ebert - Matilda The Musical
Best Performance by an Actress in a Featured Role in a Musical: Andrea Martin - Pippin
Best Direction of a Play: Pam MacKinnon - Who's Afraid of Virginia Woolf?
Best Direction of a Musical: Diane Paulus - Pippin
Best Choreography: Jerry Mitchell - Kinky Boots
Best Orchestrations: Stephen Oremus - Kinky Boots
Best Scenic Design of a Play: John Lee Beatty - The Nance
Best Scenic Design of a Musical: Rob Howell - Matilda The Musical
Best Costume Design of a Play: Ann Roth - The Nance
Best Costume Design of a Musical: William Ivey Long - Rodgers + Hammerstein's Cinderella
Best Lighting Design of a Play: Jules Fisher and Peggy Eisenhauer - Lucky Guy
Best Lighting Design of a Musical: Hugh Vanstone - Matilda The Musical
Best Sound Design of a Play: Leon Rothenberg - The Nance
Best Sound Design of a Musical: John Shivers - Kinky Boots