Kings Of Leon Members To Cameo On 'It's Always Sunny In Philadelphia'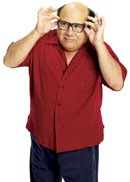 Kings of Leon rockers Nathan and Jared Followill are making their acting debut on Danny DeVito's madcap TV comedy It's Always Sunny in Philadelphia.

The brothers recently joined DeVito and cast members Charlie Day, Glenn Howerton and Rob McElhenney to film cameos for the cult series - and it airs on Thursday night.

Alerting fans to his guest appearance on his Twitter.com blog, Jared Followill writes, "I'm making my acting debut tonight on It's Always Sunny In Philadelphia... with @Glenn_Howerton. It's touching stuff."

And his proud brother and bandmate Nathan also urged fans to tune in, writing, "Don't forget to watch It's Always Sunny In Philadelphia tonight. Pay close attention the handsome bartender with the ponytail."