'King Kelly' Star Louisa Krause Talks On-Location Filming and Social Media
Two things become clear very quickly when speaking with actress Louisa Krause about her new film King Kelly. First, her cheerful attitude is genuine and infectious (so don't bother trying to fight it off). Second, she is extremely passionate about the project and one senses she could talk for hours about its importance and timeliness. Though her name may not be familiar to you yet, that is likely to change in the near future. She gave a heartbreaking and moving performance in last year's Martha Marcy May Marlene opposite Elizabeth Olsen, but it is King Kelly that will show off her real skills as an actor. 
As the titular character in King Kelly, Krause embodies the narcissism and social media obsession which runs rampant in today's "me" generation. Kelly hopes to become an internet sensation through her burgeoning online presence via webcam shows in which she performs sexual acts for the enjoyment of dozens (hundreds? THOUSANDS?!) of loyal viewers. But don't think the film's explicit nature deterred Krause in any way. "It was really fun for me to surrender to the character," she says excitedly. "I love her. I think there's a little King Kelly in all of us." Though she didn't delve headfirst into the online community Kelly loves so much, Krause admitted she did visit a few cam-girl websites just to get a sense of that world. "What's amazing is, anybody can do this in the privacy of their home in the middle of America or Brazil or Thailand," Krause says. "Anyone can be a cam-girl." 
Shot entirely using iPhones and webcams, King Kelly could be relegated to the growing pile of "found footage" movies (which have become almost ubiquitous) if it wasn't for its perfect marriage of style and subject. Even well-done films in the genre (Chronicle, Paranormal Activity) stretch audiences' willingness to go along with the concept that the character(s) would shoot as much footage as they do. With King Kelly, however, it's perfectly believable given the character's infatuation with herself.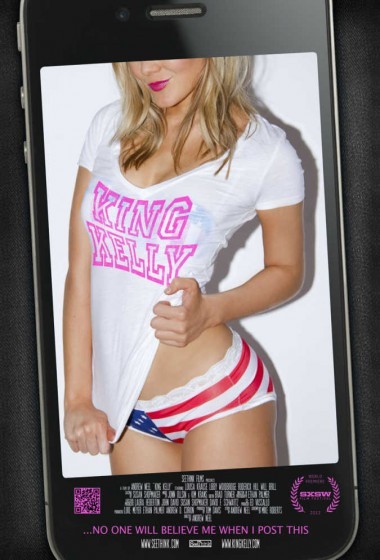 Krause attributes the film's superior quality to director Andrew Neel's vision and dedication to the film. "It was the best actor-director relationship," she says in the manner of someone talking about their first crush. "We just feed off each other's energy. I want to be his muse for life!" In addition to directing, Neel composed biographical sketches for each actor which, Krause says, "helped inform the characters." A surprising influence for Kelly is the character Eric Cartman from the TV show South Park, which Neel encouraged Krause to use as inspiration for certain aspects of Kelly's personality. 
When she isn't online, Kelly is documenting nearly every second of her life via her iPhone so that her loyal followers are never without her for a second. Neel's approach to the story (using footage only shot on smart phones) came with its own unique set of challenges and opportunities. "We would be in a room shooting, and Andrew would be outside with headphones on just listening because he couldn't be in there with us," Krause says about the film's production. "It was a 17-day shoot and there wasn't a lot of rehearsal time. But, because we didn't have to deal with camera setup, we got a lot of takes." 
In addition to having a series of "best practice" lessons from director of photography Ethan Palmer, Krause says she took it on herself to learn as much as she could prior to filming. "I was in Disneyland with my brother when I found out I got the part," she effuses remembering the call. "I just started taking a bunch of videos on my phone just to practice." Once the cast and crew were on location filming, though, Krause encountered an unforeseeable interruption she wouldn't have encountered at the Magical Kingdom. "We were in this little motel and we were in there all night long," Krause says with a laugh, remembering the situation. "And while we're shooting the sex scene, we can hear people above us actually having sex. We had to stop and a producer had to go up and ask them to keep it down." The couple apologized and promised to be quieter. Filming was able to continue. 
Regardless of the film's budget or style of filmmaking, King Kelly is a movie that will connect with almost everyone. "I feel like this could be shown to a cinema class and also a popcorny flick to watch late at night," Krause says about the film's mass appeal. She may be right. Earlier this year, King Kelly premiered at the South By Southwest film festival in Austin, Texas to excellent reviews. Krause was in attendance and has been thrilled to see fans' passion for the movie and their dedication to spreading the word to others through (what else?) social media like Twitter and Facebook. The film opens in New York this weekend with a limited engagement, but will be (fittingly) available On Demand starting December 4. 
Krause has no plans to slow down. She has several projects in the works, including an off-broadway play called The Flick which opens in February at Playwrights Horizon in New York. In 2013, she'll also appear opposite Michael Pitt (Boardwalk Empire) in the 1920s-set You Can't Win and in Bluebird with Adam Driver (HBO's Girls) and John Slattery (Mad Men). With so much on her plate, it'll be hard to miss Krause in the next few months. King Kelly is both a terrific vehicle to launch the career of a talented young actress and a reminder that film is at its best when it is capturing and reflecting the world in which we live.