Kimberly Peirce Takes Us Inside Directing 'Carrie'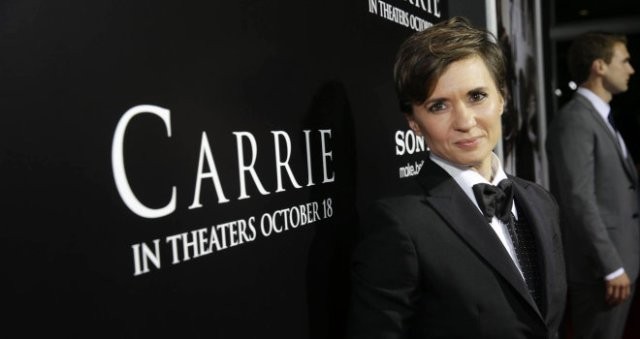 Making a movie is hard, but in some respects, remaking a picture is even harder. That's the challenge that director Kimberly Peirce took on with Carrie, the third film inspired by Stephen King's classic horror novel. BFTV chatted with Kimberly on Friday to talk about the process of reimagining the People's Choice Award-winning flick, and what captures her attention when it comes to making movies.
"I fell in love with the novel," she told us, explaining how she balanced being faithful to King's work with bringing something new to the big screen. "I just thought Carrie was an amazing character, because she was a girl who wanted love and acceptance, and was up against obstacles [like] girls at school, but she had this amazing persistence to create the kind of life that she wanted. I ended up being really compelled by how she managed her powers, the excitement around that, and the relationship between her and her mom. For me, it was really just going to this novel and saying what's the best way to get inside Carrie's story and the story of her and her mom."
It's that complex and difficult relationship between Carrie (Chloe Grace Moretz) and her deeply religious mother, Margaret (Julianne Moore), that's at the heart of the movie and best illustrated by the opening scene, where Margaret gives birth to Carrie and ultimately decides to raise her daughter rather than kill her. "I'm really proud of the opening. That was a new opening that I came up with based on the book," Kimberly said. "I read it and talked to Julianne Moore about it. Julianne and I talked about it with [the studio], and they loved the idea, and they gave us the money to shoot it."
"The entire relationship between Carrie and Margaret, I think it's really unique to this film, and I think it's a love story," she added. "This is a mother who loves her daughter and will do anything to protect her."
Kimberly advised that audiences who pick Carrie up on Blu-Ray should definitely check out the included alternate ending, and hopes that they take away something in particular from the film. "I hope they fall madly in love with Carrie and they feel for her desires, her goals, the obstacles she faces and the journey she goes on," she told us. "The same thing with Margaret. I think Stephen King wrote an amazing story."
When we talk about strong female directors in Hollywood, we can't overlook Kimberly, whose movies are about more than just their entertainment value. The award-winning helmer's previous two movies are the critically acclaimed Boys Don't Cry and the Iraq War drama Stop-Loss - both of which she also co-wrote - and she told us what she likes to find in a project. "These [films] all come from similar places," she said. "I love a main character with strong needs, who we fall in love with, who has a lot of violence - emotional, physical - in their lives, as opposed to the other characters."
"I really want to tell stories that mean a lot to me, and I was lucky that I love Stephen King's work and I really love the Carrie story," Kimberly continued. "I think it's a challenge for a lot of directors. How do we continue to find stories that we absolutely care about? And if we care about them, how do we get a good screenplay and get them to the theater? I wish audiences understood how challenging that is."
Carrie is now available on Blu-Ray and DVD.
(c)2013 Brittany Frederick. Appears at Starpulse with permission. All rights reserved. No reproduction permitted. Visit my official website and follow me on Twitter at @tvbrittanyf.