Kimberly Caldwell Inspired By The 80's For 'On The Weekend' Video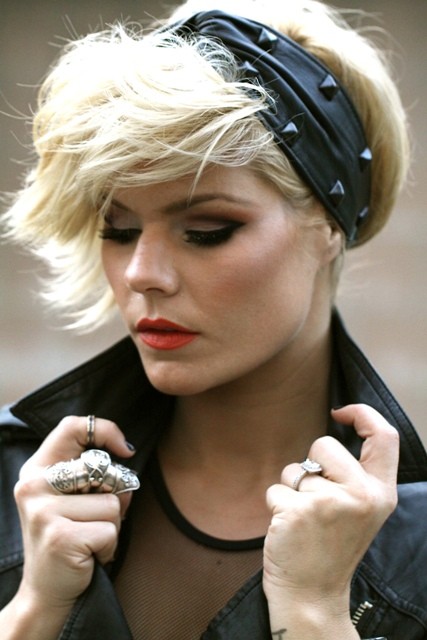 Since we spoke to her last August, Kimberly Caldwell still hasn't slowed down. The stylish singer has released a video for her most recent single "On The Weekend," is expanding her Stage Presents by Kimberly Caldwell fashion line (she's wearing one of the hair accessories in the photo above), and even gotten engaged! With all that going on, BFTV just had to check in with Kimberly to get the dish on her many happenings.
Like the song it's made for, her video for "On The Weekend" is a fun, playful nod to 80's music; its makeover scene takes a cue from the video for "Legs" by ZZ Top.
"In the video, I really wanted to portray somebody that kind of has two different lives, like an alter-ego," she explained. "This really dorky co-worker and her friend, they just sit in an office all day, but then on the weekend, they're rockstars.
"I've always had an idea for a reality show based on a glam band, so I thought let's incorporate that as well," she continued. "And when it comes to videos, I like to be surrounded by all my friends. My best guy friend, Patrick, actually flew in from Vancouver to be my co-worker. Mikalah Gordon from American Idol made a cameo as well."
Behind the scenes, Kimberly partnered with Thermafuse hair care products, did her own styling, and enlisted the help of her younger sister Kristy. The end result is a total labor of love for Kimberly and those closest to her. You can check out the video below.
The "On The Weekend" video also gives her fans a better look at who she is. "With all my other videos, even though they were fun videos to shoot," she told us, "I just felt they didn't really represent me as an artist and a person." Not so with this entertaining escapade.
In addition to the release of her video, Kimberly has been singing on select Celebrity Cruise Line cruises, getting a chance to not only perform but visit some pretty great destinations. "I just got back yesterday from the Bahamas. I've been doing my new music on the cruises and it's been so exciting," she said.
"I'm actually developing a leather hair accessory line that'll be available in stores very soon. I have my own column in Sophisticate's Hair Style Guide. And when it comes to the music, [I'm] just singing it whenever I can."
That's the philosophy she's maintaining as she continues to grow her career. "I don't think one day I just decided I'm going to be a singer with a career now. Any time that I've put pressure on myself or tried to force something, it really will make you crazy is what I've learned," Kimberly told us.
She called her current music "the best stuff I've ever written and the best stuff I've been a part of. I'm so happy where I am right now. But I'm always trying to strive to better myself and just continuing to be creative on a daily basis."
You can check out Kimberly's video for "On The Weekend" with this article. For more on Kimberly, you can check out her website (kimberly-caldwell.com), the website for her company Stage Presents (spbykc.com), and follow her on Twitter (@_kimcaldwell).
(c)2014 Brittany Frederick. Appears at Starpulse with permission. All rights reserved. No reproduction permitted. Visit my official website and follow me on Twitter at @tvbrittanyf.