Kim Kardashian's Swimsuit Selfie Was A 'Big Middle Finger To The World'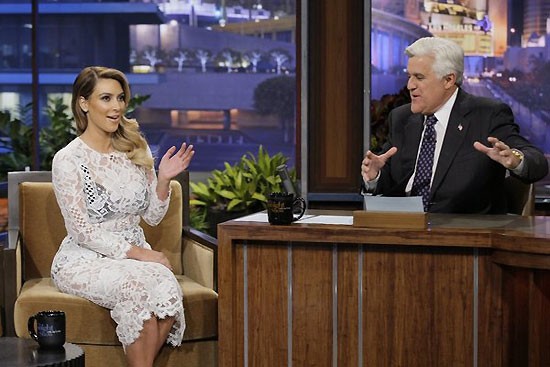 Kim Kardashian appeared on "The Tonight Show With Jay Leno" on Wednesday night, and she showed the world her post-baby body in a see-through lace dress that revealed her black bra and panties underneath.

The reality star admitted that losing weight after giving birth to daughter North was the hardest challenge of her life.

She also chatted about the sexy white swimsuit selfie she posted online a couple of weeks ago. "I was like, babe, can I post this up? This is my big, like, middle finger to the world on everyone that called me fat," she gloated.

Negative publicity about her weight gain forced her to seek a more private life. The "Keeping Up With The Kardashians" star has lost 50 pounds since giving birth in June.

As for baby North, she never cries and is a "perfect little angel," according to the new mom.

The Kardashians are currently filming the ninth season of their E! reality show.