Kim Kardashian's Baby Bump & Backside Are Expanding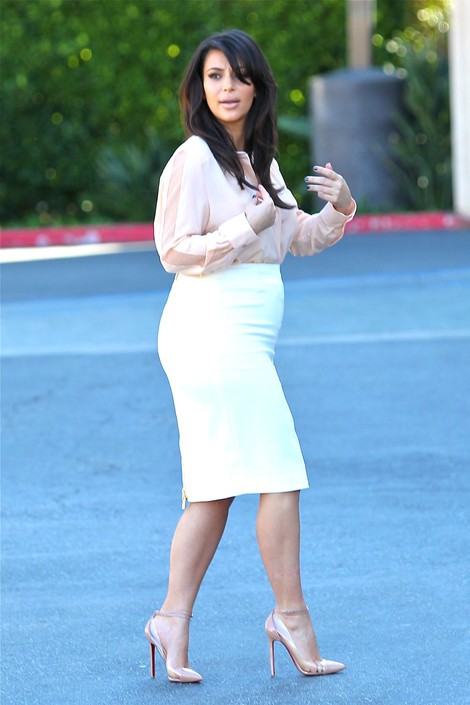 We spotted a pregnant Kim Kardashian heading to an office while filming her reality series in Los Angeles, Calif., on Tuesday. Kardashian wore a button-down pink blouse and a very tight white pencil skirt that showed off her expanding curves.
Last month, the New York Daily News reported that Kardashian was struggling with the weight gain associated with her pregnancy. A source claimed: "At first, she didn't mind because she was excited to be pregnant. But now she's flipping out because she didn't think it would be this extreme."
Last week she got sick on a flight from France to Los Angeles and was rushed to the hospital with fears she may be having a miscarriage. Doctors told her she needed to slow down, cut back on her schedule, and reduce her work-out regime.
Meanwhile, Kim is doing her best to eat right. On Monday she wrote in her blog, "Keeping a healthy lifestyle has always been important to me and now it's even more important because I am looking out for someone else's well being other than just my own. I've been researching recipes and healthy eating tricks to make sure that I get the right nutrition now that I'm eating for two!"
The reality star recently made headlines for undergoing a a "Vampire Facelift" during a recent episode of "Kourtney & Kim Take Miami." The procedure is supposed to keep skin looking healthy and reduce lines and wrinkles. But what really made an impact was the photo she posted on instagram featuring her bloody mug.