Kim Kardashian's 72 Day Marriage - The Real Deal Or Was It All Just For Show?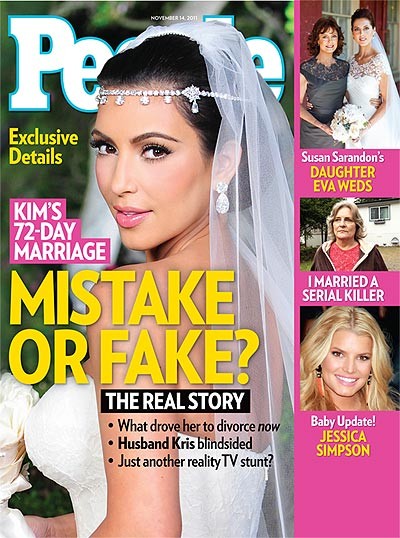 Reality star Kim Kardashian and NBA pro Kris Humphries went from "I do" to divorce just 72 days after the couple's estimated $6 million fairy tale wedding. This week's issue of PEOPLE examines whether this very expensive reality love affair was real at all. While sources close to both insist her love was true, they also concede that after all those diamonds and all that champagne, it was likely doomed from the get-go. "They got engaged before they had ever spent a full week living together," a Kardashian family pal says of the LA-based Kim, 31, and Minnesota-born Kris, 26, a former forward for the New Jersey Nets.

After their Aug. 20 wedding and five-day-long Italy "minimoon," the pair moved in together for the first time in Manhattan, with cameras following their every move, as she launched a collection for Sears and he sat on the sidelines due to the NBA lockout. "Through their whole engagement, they were so excited for what was to come and their life together," a longtime Kardashian friend tells PEOPLE. "But once they slowed down and settled into 'real life,' it became apparent that this wasn't what they both thought it was." With the stresses of filming, "it's not like you're settling into newlywed life by yourselves. You're settling into it with cameras on you and America watching." A source close to Kardashian tells PEOPLE, "A month into New York, she knew she had made the wrong decision."

Little wonder the hard-hearted have dismissed the entire L'affaire Humphries as a PR stunt. An E! rep strongly denies claims that the union was a hoax intended to goose ratings of Kardashian's reality show: "This is absolutely not a publicity stunt. We were just as surprised as everybody else." One of her closest pals, The Spin Crowd's Jonathan Cheban, says, "Their love was very real…but sometimes things are not meant to be." Not only do both parties adamantly deny a staged romance, but some feel their quickie divorce might hurt her ever-expanding empire. "I don't think it helps her or E! to have a backlash against the Kardashians if viewers feel manipulated," says Stuart Levine of Variety.

"They were always arguing over something, from his going out to her working too much," a Kardashian pal who spent time with them in New York tells PEOPLE. "She thought there would be growing pains, but happy-ever-after turned into rudeness and resentment." But Humphries wasn't naïve about the reality royalty he was marrying into. "He wasn't [into the fame] when they met, but it was something he easily grew accustomed to – and liked," says a source close to Kardashian, who adds that "Kris wanted to be more involved in her business." (Sources close to Humphries deny this claim.)

So what happens now with the engagement ring, the wedding gifts, and Kim's E! shows? A source close to the star says Kardashian will keep her $2 million diamond dazzler: "It's a sentimental thing she'll always have." While the couple haven't decided what to do about their lavish presents ("They genuinely feel horrible," says a source), they will likely donate them to charity. "They'll figure it out sometime soon," adds a source close to the couple. E! hasn't decided what to do with its already-shot footage of Kim and Kris, filmed for Kourtney & Kim Take New York, though promos for the series have begun airing. While it seems unlikely the season will be scrapped, "they don't know yet how it will play out on the show," says an E! source.

"Kim is embarrassed about the entire thing," says a Kardashian family friend. "She's ready to take blame for things. She took the whole world through this journey. She got caught up in the fairy tale, but her heart wasn't there in the end."  
*Also In This Week's 'People'*

-Susan Sarandon's Daughter's Wedding Photos: "It Was A Beautiful Occasion"
-Jessica Simpson Is Pregnant: "Having A Baby Is Something They Both Wanted"
-I Married A Serial Killer: "Was My Life Real With Him Or Did He Just Use Me?"
-Scotty McCreery's High School Homecoming: "I Keep Waiting To Wake Up"

All this and more in the new issue of People Magazine, on newsstands everywhere now!