Kim Kardashian Wears Velvet Jumpsuit With Plunging Neckline; She & Sisters Cause Fan Chaos In London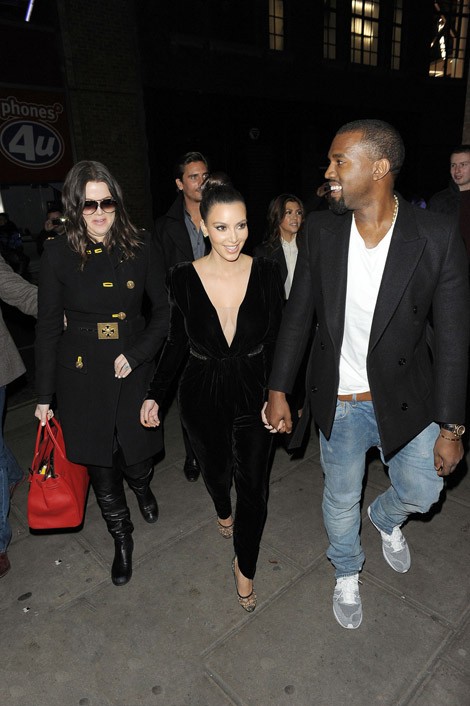 We spotted the Kardashian sisters, Kim, Kourtney and Khloe, and their significant others heading to dinner at Hakkasan restaurant in London on Friday.
Kim wore a black velvet jumpsuit with a plunging neckline and her hair pulled back tightly in a bun. Her boyfriend Kanye West stepped out in jeans (typical) with a white t-shirt, sneakers, and black suit jacket.
The following day, the Kardashian sisters launched their Kardashian Kollection at Dorothy Perkins in London at Westfield.  Kim once again showed off some cleavage while Khloe rocked thigh-high leather boots and Kourtney opted for a more conservative look in black pants and a polka dot jacket.
Fans camped out overnight to catch a glimpse of the reality stars at the shopping center, and several were taken to the hospital after getting caught in a crowd rush and fainting, according to the London Ambulance Service. Fortunately, there were no serious injuries.
Khloe posted on Twitter, "We can't believe how many incredible fans are waiting outside (several thousand!) In order to keep everyone safe, Westfield had to action a contingency plan for those who stood in line overnight and allowed those people to stay in the car park... I wanted to send a personal message to make sure everyone stays safe!"
Check out more photos of Kim and her sisters...