Kim Kardashian Under Fire For Riding Dolphins In Mexico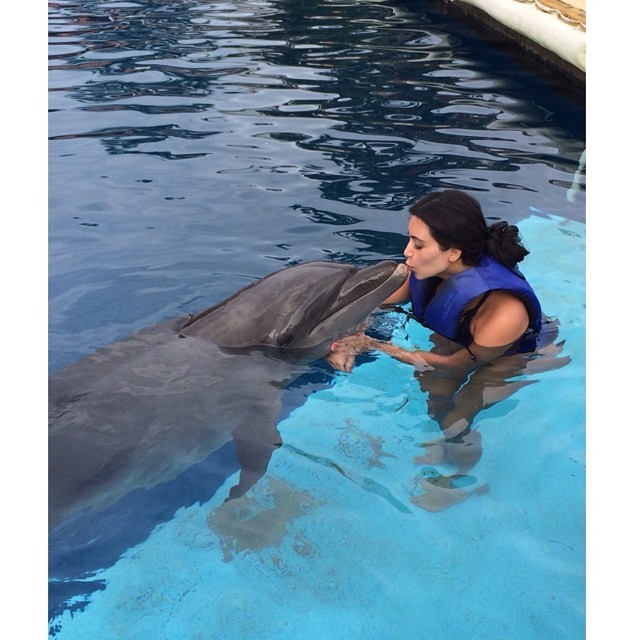 Kim Kardashian is getting heat from People for the Ethical Treatment of Animals (PETA) for sharing a video of herself swimming with dolphins during her recent Mexican vacation.

The reality star shared the short clip on Instagram on Monday, and the video shows Kim and pal Kristen Gipson, a jewelry designer, holding on to the dolphins and being pulled around a pool.

"Double dolphin ride with @kristennoelgipson," she wrote. "Thank you Vallarta Adventures for teaching us so much!

She even mentioned daughter North West, 1, in the post, adding, "Can't wait to show my daughter the pics of her swimming with dolphins & kissing a sea lion when she gets older!"

Bosses at PETA were none too thrilled by the video, prompting Senior VP Lisa Lange to speak out over Kim's interaction with the marine mammals.

"Kim is free to leave the pool, but for the dolphins, it's a lifetime sentence," Lange told RadarOnline.

"Touch tanks and 'swim-with' programs allow the public to pet, kiss, or even 'ride' dolphins. Such programs invade the animals' already diminished worlds and are intrusive, dangerous, and stressful for the animals as well as for human participants," Lange added. "Animals in 'petting pools' can become injured and anxious as a result of constant poking and prodding, and exposure to bacteria that they are not immune to can make them ill. The dolphins also often express their frustration through aggression."