Kim Kardashian Takes Her Clothes Off For W Magazine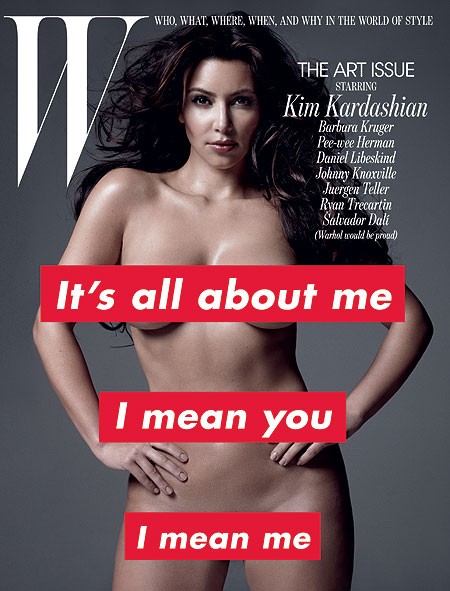 Socialite and reality TV star Kim Kardashian bares all for a magazine again - and this time it's not Playboy.

The Hollywood beauty graces the cover of the November issue of W Magazine wearing only her birthday suit and a few well placed words. Kardashian stripped for Playboy in 2007.

Kim was interviewed by W's Editor at Large, Lynn Hirschberg, who went behind the scenes with the queen of reality TV.


A few highlights from Hirschberg's story:

-Kim Kardashian on getting into the reality TV business: "People would come over and say, 'Where are the cameras?' Everyone always said that it was like a sitcom at our house! We also knew that while we had the glitz and glam for an audience to vicariously live through, we are such a normal family that everyone can relate to."

-On her public perception: "I'm not a drinker, and when I'm up on the table dancing, it's for the picture. Then I sit right back down. I play into the perception of me, but it's not really me. And the show reveals that.

-On what 'Keeping Up With The Kardashians' has done for her self-confidence: "I used to think, I have to be this or that or skinny, and now, because of the show, everyone is embracing just me, which has given me such a confidence. Now, I'm like, Why did I ever give that feeling the time of day? I'm so mature now. I'm a grown-up version of myself."

-On tabloid rumors: "I've learned to ignore everything. In the beginning I thought I was too sensitive for this. I'd Google myself and it would freak me out. Now I could care less if they say I'm pregnant with twins by my brother."

-On her wedding to music producer to Damon Thomas: "For my wedding, I wore black leather pants, a black leather top, and Prada wedges. No Flowers. And no family. It was so bizarre. I was a different person then-as I said, I always wanted to be a housewife, and I wanted to have kids at a young age. I was insecure and dependent, really the opposite of who I am today."

The "Keeping Up With the Kardashians" star's November cover is an artwork by conceptual artist Barbara Kruger on a photograph by Mark Seliger. Additional photos in the new issue feature a nude Kim covered in silver paint; which was inspired by artist Jeff Koons' 'Silver Bunny' and of artists Gilbert & George's 'Singing Sculpture.'

Check out more at Wmagazine.com!
Click for more great Kim Kardashian pictures: