Kim Kardashian Swears Off Plastic Surgery After Getting A 'Vampire Facial'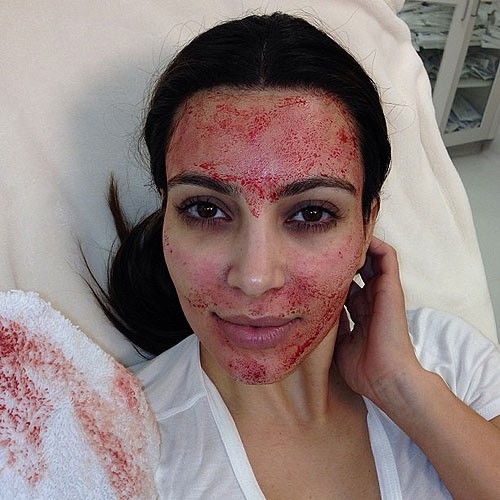 Kim Kardashian's face was left bloody after undergoing a new designer procedure called a "Vampire Facelift" during Sunday night's episode of Kourtney & Kim Take Miami.

The procedure is supposed to keep skin looking healthy and reduce lines and wrinkles, and involves drawing the recipients blood, enriching the plasma with platelets, turning it into a gel, and then re-injecting it via "micro needles" into the face.

"I love trying anything that makes you look and feel youthful," Kim said before undergoing the procedure at Miami's Institute For Age Management.

Kim's BFF Jonathan Cheban wasthe one who came up with the idea for her to undergo the treatment, and, naturally, he obediently tagged along to watch the procedure.

"Look what @jonathancheban did to me!!! #KKTM" she tweeted.

And the facial treatment seems to have put her off plastic surgery for good.

"Oh my God. I will never get a facelift if it feels like that," Kim said.

Sunday's episode also saw more drama from Kourtney and her tool boyfriend Scott Disick, who basically took a huge dump on her feelings over her post-baby body. But then again, she's the one who keeps him around.

"Last time around you tried to watch what you were eating, after you had Mason," he said about her current size. "At least you were losing weight."

"Just do it faster, he later added. "You're my piece of machinery!"

Kourtney said it's been harder for her to lose the baby weight this time around, but Scott was very unsympathetic.

"If I would have fell in love with you a couple of pounds overweight, [your current weight] would be my ideal weight," Scott replied, "but I fell in love with you when you were super skinny."