Kim Kardashian Steps Out For The First Time Since Giving Birth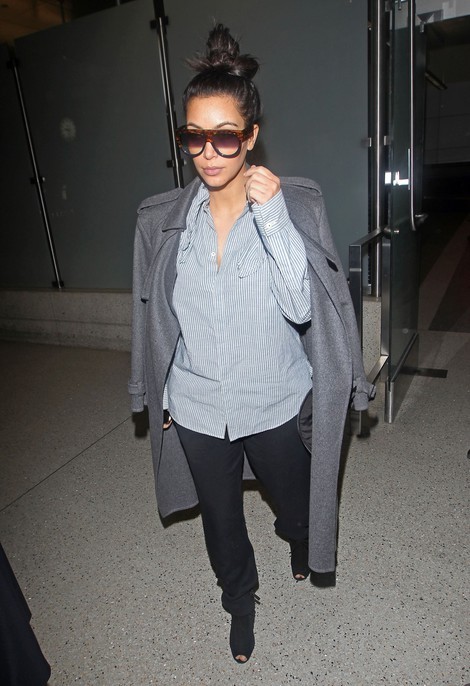 Kim Kardashian has reportedly already lost 30 pounds since giving birth to her daughter North two months ago. The reality star made her first post-baby public appearance in Los Angeles on Wednesday with her fiance Kanye West.
She wore a denim shirt and a shirt tied around her waist in photos exlusively obtained by TMZ. She definitely has slimmed down, but it's tough to tell how much in such a baggy ensemble.

The reality star is purportedly extremely self-conscious about her post-baby body. A personal trainer is reportedly working with her five times a week to help get get in shape, and a chef is tailoring low calorie meals for the new mom.

Kardashian reportedly has another 30 pounds to go before she gets back to her pre-baby weight, and it will take about six more weeks to reach her goal.

In the new photos, Kardashian and West are joined by what appears to be a nanny, who is holding baby North, a.k.a. Nori, in a baby seat.
The couple has reportedly turned down millions of dollars for the first photo of their child. It's been rumored that West wants his fiancee and Nori featured on the cover of Vogue even though editor Anna Wintour isn't too fond of the "Keeping Up With The Kardashians" star.