Kim Kardashian Shows Off Plenty Of Cleavage In 60s-Style Lingerie Shoot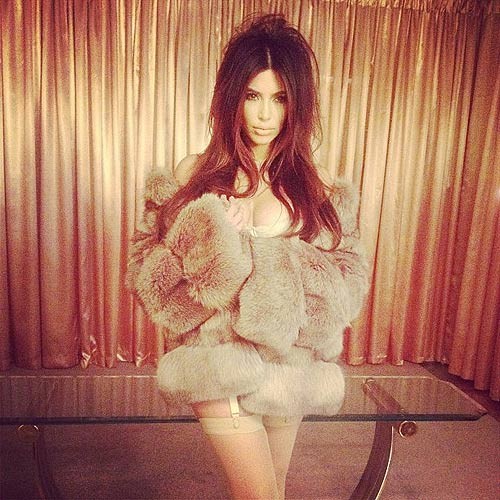 Kim Kardashian shared some pictures from a recent photo shoot she did on her Twitter page Monday; flaunting plenty of cleavage in sexy lingerie and a fur coat.

"Vintage shoot today with @vijatm @joycebonelli @mrchricmillan @seamknight," she wrote.

The photos look reminiscent of a 60s or 70s era lingerie or Playboy photo shoot; but her fur coat is sure to have PETA up in arms again.

The Animal organization has lashed out at her on several occasions, including one member flour bombing her at a perfume launch earlier this year and in June when she was spotted wearing thigh-high snakeskin boots.

The socialite recently told V magazine that she thinks reality TV stars should be eligible candidates to get stars on Hollywood's illustrious Walk Of Fame.

"I think there was a quote where somebody said that reality stars will never get a star on the Hollywood Walk of Fame," she says. "So, of course I'm so competitive that I think that it would be a huge achievement and a goal that anyone would want. I would love to break that mold (sic)."

Sorry Kim, but we're going to have to go ahead and disagree with that one.