Kim Kardashian Shows Off Major Cleavage At Clive Davis' Grammy Party; Spotted Earlier In The Day With Reggie Bush (See Pics!)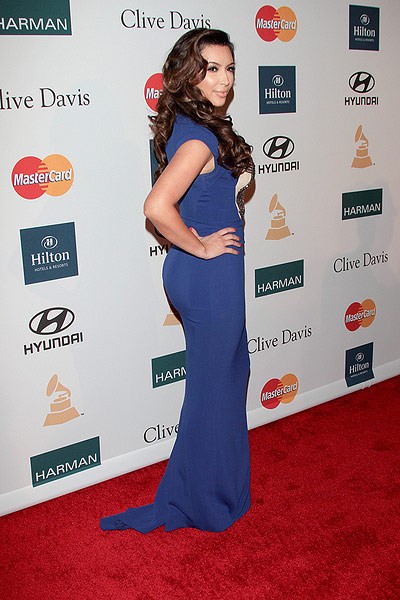 Kim Kardashian spent her Saturday night out in a very risque blue dress with a cutout that enhanced her sexy cleavage and left little to the imagination. The socialite spent the evening partying at music mogul Clive Davis and The Recording Academy's 2012 Pre-GRAMMY Gala And Salute To Industry Icons Honoring Richard Branson at the Beverly Hilton Hotel in Beverly Hills, Calif.

Kim was one of a number of stars, including Britney Spears, Ciara, Diana Ross, Blake Shelton & Miranda Lambert, Ne-Yo, Tom Hanks, and Glee stars Darren Criss and Matthew Morrison to attend the event despite the tragic loss of singer Whitney Houston earlier in the day.
Prior to the party Kim tweeted her condolences on the superstar's death.
"Just heard the tragic news that Whitney Houston passed away. I pray for her daughter & loved ones. We will always love you Whitney..." she wrote.

Davis, who was very close to Houston, was a no-show for his party (for obvious reasons), but refused to cancel on the eve of the Grammys.

Saturday afternoon, Houston was found dead in her bathtub in her room at the hotel. She had planned on attending the event and the Grammys.

Kim was reportedly spotted at the Beverly Hilton on a lunch date wtih ex-boyfriend Reggie Bush on Saturday, and TMZ.com reports that the two have been spending "A LOT" of time together of late.
Kaution: Massive amounts of Kim Kardashian Kleavage on the next few pages...