Kim Kardashian Shows Off Flat Belly In A Sports Bra & Sweatpants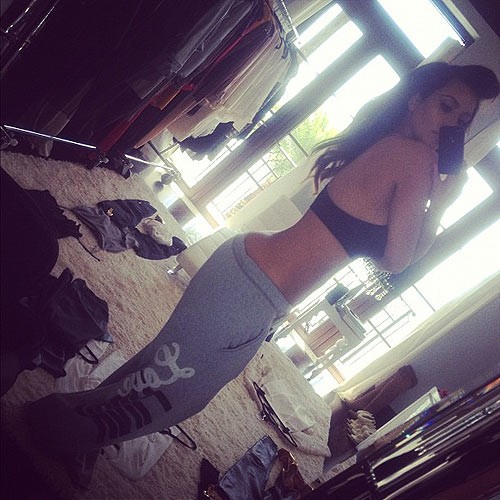 Kim Kardashian is getting herself into shape and she showed off her flat stomach with a side-profile photo on twitter Wednesday.

The reality TV star said, "I just wanna chill in my sweats all day!"

Kim was spotted on Wednesday wearing a huge diamond ring on her right pinky finger, sparking engagement rumors despite the ring not even coming close to being on the correct finger.

Kim and boyfriend Kanye West aren't engaged yet, but Kim's BFF Jonathan Cheban recently told Life & Style magazine that the couple's engagement is imminent.

"It would be great if Kim and Kanye get married!" He says. "She needs to get divorced first, though. When that guy [Kris Humphries] is done playing games, I guess she'll get engaged."

As far as her weight goes, the Keeping Up With the Kardashians star reportedly gained between "15 to 20 pounds," according to a friend; but she says she's started using dietary supplement QuickTrim again with hopes of dropping all of that extra weight.

"I'm hoping to slim down a little bit, and I'm not afraid to say it," she tells Life & Style. "I think everyone goes up and down in whatever that comfortable love relationship phase is where you like to eat out, but now it's time to get it together again."
Kim also shared a photo on Thursday of her and Kanye in Star Wars costumes from before they were dating.
"Throwback Thursday me & Yeezy 2008" she wrote (see the pic on page 2).