Kim Kardashian Shares Photos From Star-Studded Weekend – And The Dumb Reason She Left The Hamptons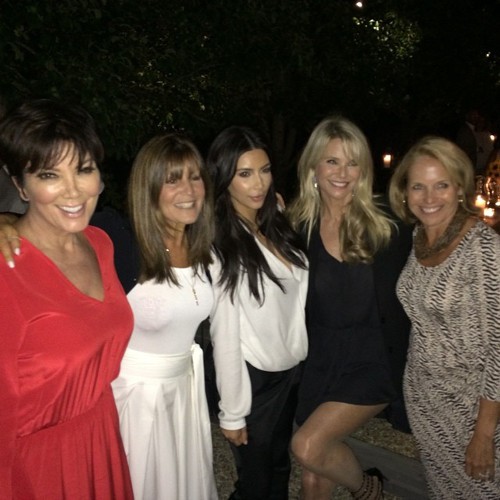 Kim Kardashian enjoyed her Independence Day weekend in the Hamptons with several famous women, but one thing had her rushing out of Long Island on a helicopter.
Kim and her mother Kris Jenner were living it up in New York with the likes of Katie Couric and Christie Brinkley after visiting Kourtney and Khloe to support their upcoming spinoff Kourtney and Khloe Take The Hamptons.
Brinkley shared a photo on her Instagram with Kim and Marlo Thomas, writing, "With Two Icons .. That Girl,Marlo Thomas and that other girl who needs no introduction..@kimkardashian ! Both were so sweet and charming! Proud Mom Kim showed me baby pictures of her most gorgeous baby, North."
However we doubt Kim had much interaction with Couric; the two were wrapped up in a nasty trading of barbs after Couric bashed Kim and her family in an interview. In June of 2013 she was quoted as saying, "I don't understand - why are they so famous? I think it's mostly teenage girls that are interested."
Kim snapped back with a photo of the gifts Couric sent her for her wedding with Kanye West, writing, "#IHateFakeMediaFriends #MayIHumblySuggestYouNotSendGiftsThenTalkS—t." For what it's worth, Couric apologized, saying, "I didn't mean to hurt her feelings. The gift is genuine, and I'm happy for Kim and Kanye."
Despite the glamorous nights out, Kim couldn't wait to leave. Why? The spotty cell phone service! She photographed herself on a helicopter whisking her away with the message, "Bye Hamps!!!! YOUR CELL PHONE RECEPTION SUCKS!!!! Have to go to the city real quick to Instagram!!!"
We guess Instagram is serious business for some people.