Kim Kardashian Shares A Pair Of Bikini Selfies While Stepbrother Brody Jenner Admits She Turns Him On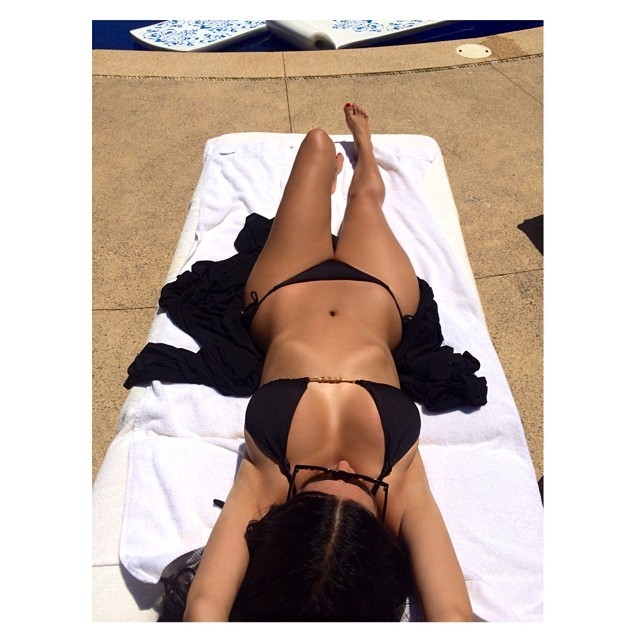 Kim Kardashian shared another bikini selfie on Friday from her Puerto Vallarta, Mexico, vacation.

Focusing on her front this time, Kim wrote, "It's a little blurry but you know what it is..."

The 33-year-old socialite also shared a shot from her workout, adding, "Gym time while my baby is napping!"


We're guessing Kim's stepbrother Brody Jenner finds the photos sexy -- he'll be confessing that after seeing Kim nearly nude during a photo shoot that he was a little turned on during Sunday night's episode of Keeping Up With the Kardashians.

In a clip from the new episode Kim sets up a sexy photo shoot for hubby Kanye West while the family vacationed in Thailand.

Kanye couldn't make the family trip, so Kim wanted to give him a memento from her trip. But while being photographed by her assistant, Brody accidentally walked in and caught a glimpse of his stepsister in a "see through, white, ass out, t*ts coming through the top -- the whole nine" outfit.

Jenner then headed back to the room where his brother Brandon and sister-in-law Leah were.

"You just saw Kim naked?" Leah asks. "Brody, did you get turned on by Kim?"

A clearly embarassed Brody then denies that he was turned on as Leah pushes him to answer her question, and then he shamefully admits that he got "maybe just a half chub" as he leaves the room.

The new episode airs Sunday night on E!