Kim Kardashian Re-Creates Photo Of Elizabeth Taylor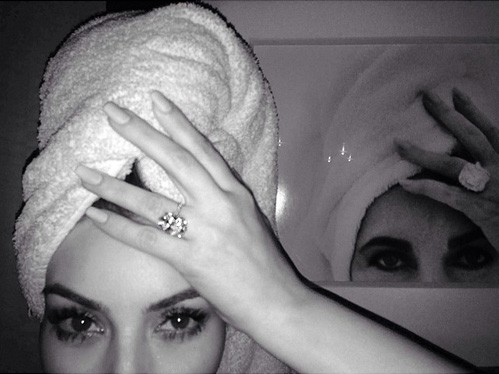 Kim Kardashian's newest Instagram photo is her latest attempt to emulate her idol Elizabeth Taylor.
In the black and white photo, offered a tribute to the late Taylor by wearing a towel around her hair and showing off a giant diamond. Of course, she was standing in front of the original photo by photographer Roddy McDowall.
The photo was given the caption "#MyIdol" by Kardashian.
Back in 2011, Kim interviewed Liz Taylor for Harper's Bazaar in what would be the screen legend's final questionnaire. They chatted over several things, including (of course) diamonds. Kim teased, "You are my idol. But I'm six husbands and some big jewels behind. What should I do?"
Taylor replied in earnest, "I never planned to acquire a lot of jewels or a lot of husbands. For me, life happened, just as it does for anyone else."
Since then, Kim has collected two more husbands and one more diamond – Kris Humphries made sure he got his back.