Kim Kardashian Parties With DJ Pauly D For 2011 'Fashion's Night Out'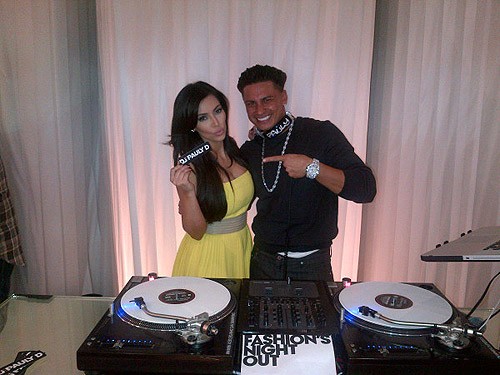 Kim Kardashian celebrated Thursday's "Fashion's Night Out" in New York City at her SoHo store Dash with Jersey Shore's DJ Pauly D in the house to spin the tunes.

The newlywed socialite tweeted a photo of the pair with the message, "Fist Pumping & Fashion with @DjPaulyD !!!"

This year marked the third year of Fashion's Night Out, an after hours fashion shopping extravaganza celebrated in 18 countries. In the U.S. a.one over 250 cities participated with over 1000 stores in New York City opening and celebrating the event.
DJ Pauly D's appearance at the event was his "gift" to the newlywed, as TMZ reports he gets top-dollar for his appearances - about $40,000!
Kim apparently confused the lower Manhattan neighborhood with the rest of the city, posting on her blog, "The city of Soho was insane!!! We literally got shut down by the city because of all the people that came out!

"I loveyou NYC!!!"
TMZ reports that it was such a hot event that police had to shut down Kim and her sisters' store because the thousands-strong crowd outside the boutique got out of hand when Pauly went to leave.

And where was Kim's new husband, Kris Humphries, during all this? Uptown celebrating at Saks Fifth Avenue.

Yahoo OMG's The Famous caught up with Humphries during the event and asked him if he watches Kim's family's reality show, Keeping Up With the Kardashians.

"I haven't watched any of them, no," he said. "I'm busy. I just haven't, you know, really... I dunno." he tells the website.

"I only like watching myself play basketball."

Could there be trouble in paradise already?