Kim Kardashian May Have To Fear For Her And Baby's Life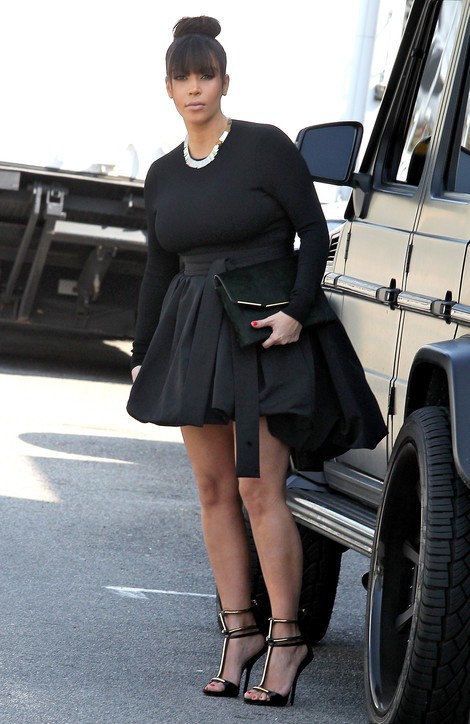 Access Hollywood reported on Friday that reality star, Kim Kardashian, is receiving death threats.  Kardashian says that some of the paparazzi have been threatening her, saying that if she is not more cooperative with their picture-taking, they will "make her and her baby's life a living hell."  Did the reality personality warrant this behavior from the paparazzi?
Kardashian has said publicly that she "enjoys" sharing her life with people in front of a camera.  However, this attack on a woman, especially a pregnant woman, is not  justified.  Terrorizing women has always been trendy, but the absence of a man makes it incredibly inviting to odious behavior.  We don't know exactly how much time the father of Kardashian's child, Kanye West, spends with KK, but judging by the photographs of those portentous paps, he's rarely with her, showing the media that it is a free-for-all on Kardashian's life.  
Has West received threats, for, perhaps, not being seen with Kardashian enough?  Have the paparazzi ever threatened his life for verbally retaliating against them when the rapper believed they had overstepped their boundaries with a camera?  Of course not because West is not a woman.  The public scrutiny--"she's too fat," "she can't dress," and "she's a ho" regarding Kardashian is the dialogue that dices, chops and slay women everyday.  No matter the woman's caste, neither gender (women are harder on other women than men) is going to be influenced to deviate from the script.  But, what can happen is a display of West's loyalty and concern for his pregnant girlfriend before it is too late.