Kim Kardashian & Kanye West To Wed At The Palace Of Versailles?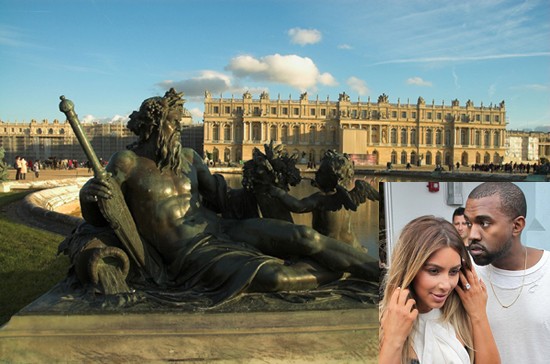 When you're getting married for the third time, why not do it at The Palace of Versailles in France? Kim Kardashian and Kanye West are reportedly considering having their wedding at the lavish European location.
The palace, built by Louis XIV, includes luscious gardens, the famed Hall of Mirrors and extravagant furnishings.
Usmagazine claims the couple is thinking about tying the knot at the palace, the royal residence just outside of Paris that was once the home of Marie Antoinette.
Let them eat cake!
"Kanye has never been married and wants a big (wedding). They are not working with a budget," a source told the magazine.
It will be Kim's third walk down the aisle. She has been married to Damon Thomas and basketball star Kris Humphries.
In October, Kanye proposed in a larger-than-life ceremoney at San Francisco's AT&T baseball park in front of  friends, family, and 50-piece orchestra. He's got to top that, right?