Kim Kardashian, Kanye West & Pals Celebrate Halloween Batman Style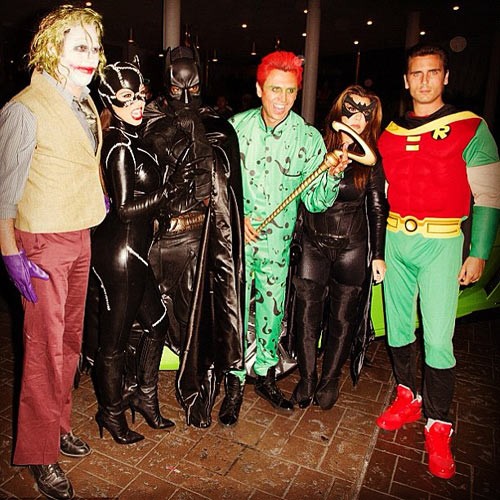 Halloween fever had its grip on a myriad of celebrities this year, including Kim Kardashian, who was able to squeeze her curves into the same Catwoman costume that Michelle Pfeiffer wore in 1992s Batman Returns.

Kim partied the night away at the LIV nightclub in Miami Beach's Fountainbleu resort with boyfriend Kanye West, who dressed as the The Dark Knight himself.

The couple was joined by Kim's sister Kourtney and her boyfriend Scott Disick, dressed as Batman and Robin, respectively; and Kim's BFF Jonathan Cheban, who wore a Riddler costume. The group was joined by another pal, dressed as the Joker (a pretty weak attempt at a costume).

Kim and Kanye arrived in style at the party in their substitute Batmobile -- Kanye's gold Lamborghini.

Hulk Hogan also showed up to the party, dressed as himself, circa 1987. The Hulkster wore an orange and yellow feather boa with a Hulkamania t-shirt and bandana from his glory days.

But klan Kardashian weren't the only stars with Batman-fever, Paris Hilton and boyfriend River Viiperi also dressed up as the dynamic duo. We think Paris makes a sexier Robin than Scott does though.

See more celeb Halloween costumes here.