Kim Kardashian, Justin Bieber & Other Celebs Tweet Reactions To Chilean Miners' Rescue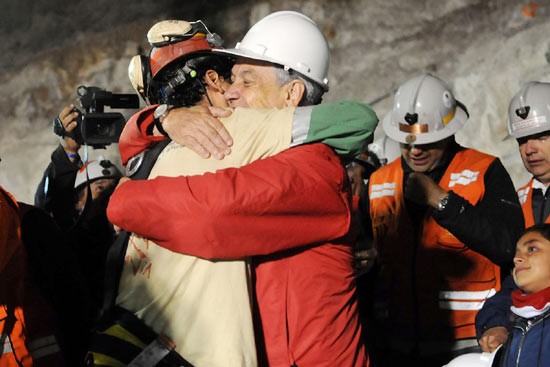 In what will surely become one of the most memorable events in modern history, the 33 Chilean miners who have been trapped in a collapsed mine underground for 69 days began to be rescued early Wednesday morning, around 1 a.m. Chilean time.
Over 2000 journalists from around the world have gathered around the mine in the small town of Copiapo, 800 kilometers from the capital, Santiago, as well as Chilean president, Sebastian Pinera.  
Movie producers and writers have also flocked to the scene, ready to do research and buy rights for future projects.
Here's what celebs have been tweeting about the historic rescue:
Justin Bieber: "Just found out the miners of Chile are being rescued!!! Happy for the families being brought back together. Miracles do happen."
Ryan Seacrest: "Sending prayers & well wishes to the miners & rescue teams in Chile. Hope to see everyone on the surface soon."
Kim Kardashian: "Wow seriously in tears watching this Chilean miners getting released on CNN! What a tough struggle they made it through!!!"
Steve Martin: "Rise in elevation has turned the miners in tenors. Holding auditions for Chilean Tenors world tour. O Danny Boy a definite favorite."
Diddy: "Theyre streaming live from the Chilean Mine Rescue--->http://www.ustream.tv/cbsnews"
Michael Ian Black: "Check out witstream.com for up-to-the-minute latest breaking Chilean miner jokes."
Mel B: "'Omg watching these guys get released is sooo amazing!! Chile miners rescue live!!!!!"
Amanda Holden: "Still glued to the Miners rescue! History in the making!"
So far, 16 miners have been rescued in the "Fenix" capsule, a NASA-designed pod barely big enough to hold a grown man.  The miners are trapped 2,300 feet below the surface, and original estimates stated they wouldn't be saved until Christmas.