Kim Kardashian Is Making More Money, Showing Off Her Legs In A Short Skirt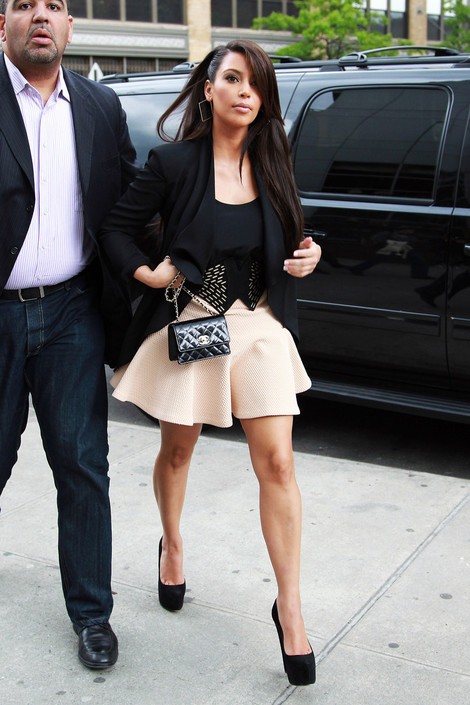 We spotted Kim Kardashian in a short skirt and black blazer at the Gansevoort Hotel in New York City yesterday. Escorted by her bodyguard, she carried a tiny Chanel purse.
One thing's for sure - the purse won't hold much of the $40 million she and her family will reportedly receive from E! over the next three years for their various television programs. According to The Richest People, Kim has a net worth of about $35 million and reportedly makes $40,000 per episode. She makes additional money from her clothing line, perfume, weight lost products and other endorsements.
The reality star was reportedly meeting with boyfriend Kanye West. The stars entered and exited from separate doors at the hotel, but they're not tricking anybody. Although the couple hasn't confirmed their relationship, they've been spotted together on numerous occasions, and over the weekend Kim wore earrings with the initials "KW" on them.
Kim's estranged husband Kris Humphries is reportedly trying to use her new relationship with the rapper to aid him in his divorce proceedings.
See more photos of Kim in NYC...