Kim Kardashian Gets 'Tanorexic' To Poke Fun At New Jersey 'Tanning Mom' Patricia Krentcil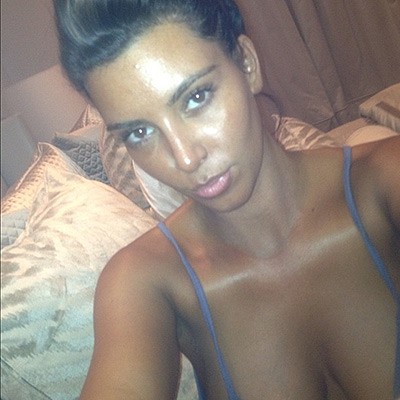 Turns out Kris Humphries isn't the only one with a sense of humor. After poking fun at himself because so many people think he's a jerk (along with taking a dig at Kanye West), his ex-wife of 72 days, Kim Kardashian, has taken to her Twitter page to show off her own sense of humor.

On Saturday the Keeping Up With the Kardashians star posted a photo of herself with a serious spray-tan with the message, "The tannerexic mom has some serious competition!!! LOL."

Kim, of course, is referring to New Jersey's Patricia Krentcil - aka "Tanning Mom".

Krentcil became a viral news sensatoin after being arrested on April 24 for taking her five-year-old daughter into a tanning booth.

"Relax that's just a spray tan!!!" Kim tweeted to concerned fans later. "It washed off & I'm back to my normal tan self! But how crazy does it look after being on for 8 hours!"

Shortly after, she added, "How do you spell tanorexic anyway? Tannerexic? Tannorexic? Is this even a real word?"