Kim Kardashian Gets A Spray Tan And Kourtney Complains About Her Veiny Boobs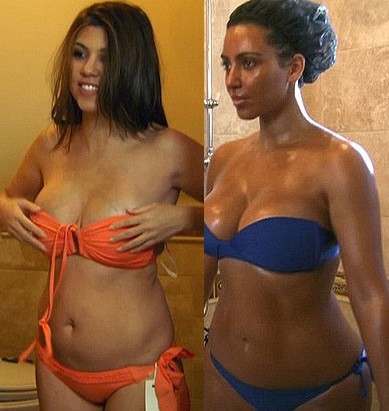 Kourtney Kardashian was worried about her cover shoot for Us Magazine's January issue, which showed off her bikini bod after dropping 44 pounds in just six months after giving birth to daughter Penelope.

But prior to the photo shoot, as seen on this week's Kourtney & Kim Take Miami, Kourtney was worried about how her photos would turn out.

"My belly is flabby and my boobs are so veiny because there is milk in there," she complains to sister Khloe. "I don't know why I agreed to do this shoot. After your second baby it is definitely harder to lose the weight. It's frustrating, it's been six months since I gave birth and my weight is just staying the same."

So Kim suggested a spray tan session to help booster her older sis's confidence; but Kourtney wasn't totally convined.

"...what if I get one and I look orange like Kim does?" she asked boyfriend Scott Disick. "Just get one layer," Disick replied.

Kourtney was also concerned about the chemicals in a spray-tan, but she and Kim were able to find (with help from the show's producers, no doubt) an organic tanning salon.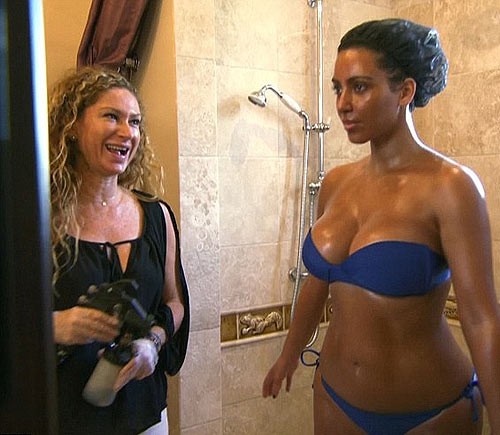 The 33-year-old mother of two stripped down to just a tiny thong and then the spraying began. When all was done she was feeling a lot better about her upcoming Us shoot.

"I feel skinner already," she said, admitting that she was a "little judgy-wudgy" about the whole idea.

Sunday night after the episode aired, Kim tweeted that she was self tanning her legs with the Kardashian sisters' new product "Kardashian SunKissed".

"Sprayed tonight after watching KKTM! My legs are soooo dark!" She wrote. "Loving Kardashian SunKissed! #AvailableAtUlta."

Kourtney also added a shout out to her little sister as well, realizing that the tanning actually helped with the Us shoot.

Being tan for sure made me look 10 pounds thinner for my shoot. Thanks @KimKardashian for forcing those tanning ways of yours on me!" she said.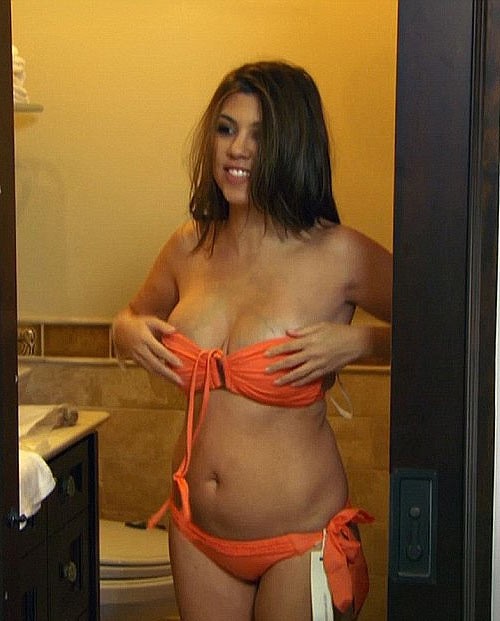 The latest episode also featured Scott shooting an alligator so he can make a new pair of shoes out of it.

While hanging out at a nightclub with Khloe, Scott met Vienna Girardi, who won the 2010 season of ABC's hit reality show The Bachelor. Girardi explained that she her family had a farm in the area where they hunt alligators.

"We... live on the St. John's River, so we do... gator tours," Girardi explained.

"That's unbelievable!" Scott replied. "I want to find an alligator and make it my shoe!"

But wearing them isn't really what the family does.

"We eat them!" Vienna replied.

Scott was (ahem) game, and joined Vienna's family on a hunt, shooting and killing his first gator. He went back to the farm to help skin it and had his first taste of gator meat.

The next morning Scott woke up and said he had nightmares about the experience.

"I feel like I'm get a little bit haunted here," he said.

Naturally a family trip to the zoo takes place next, and Scott can't bear to look at the baby alligators in a tank.