Kim Kardashian Flaunts Her Curves In Underwater Bikini Pics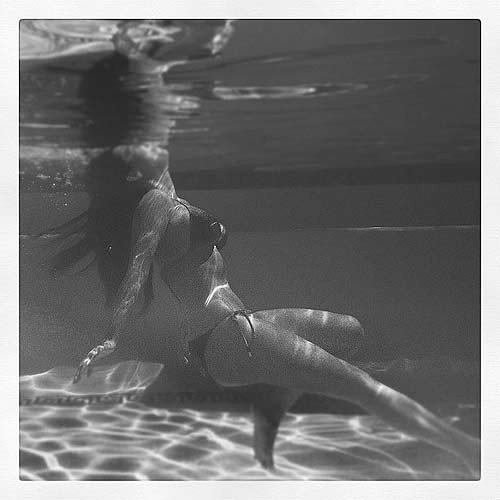 Kim Kardashian and sister Kylie Jenner spent their Sunday afternoon by the pool and shared plenty of pics from their underwater camera. "Air needs me," she tweeted with the above image.

Kim showed off her signature curves in a string bikini; but recent reports claim that she's trying to lose some of the weight that makes up those curves and has already shed seven pounds thanks to a "sex diet" with boyfriend Kanye West.

"We jokingly refer to it as the sex diet," a source tells the National Enquirer. "When one of us is having regular sex, that tends to' burn calories and kill the appetite. Losing seven pounds in seven days means being a very naughty girl."

But word is Kanye isn't too happy about Kim losing any weight as he loves her curves.

"Kim was speechless, especially when he told her he missed her love handles," the source adds. "Kanye can't understand why she has lost weight when she knows it's not the look he likes. He thinks Kim should be doing everything to please him — not herself."

One way to keep Kanye happy and not lose any weight - drink lots of sugary sodas like the two-liter bottle of Orange Crush Kim's sipping from in one of the pics she posted.

The two sisters also got competitive, and Kim commented "Way to blur me out @kylieejennerr" over her little sis taking over the spotlight.

"Fun day at church with Mason today," she tweeted; "then a BBQ & swimming with friends & family. Couldn't have been a more perfect Sunday!"