Kim Kardashian Flaunts Cleavage In Sheer Top, Nude Bra At Bonnaroo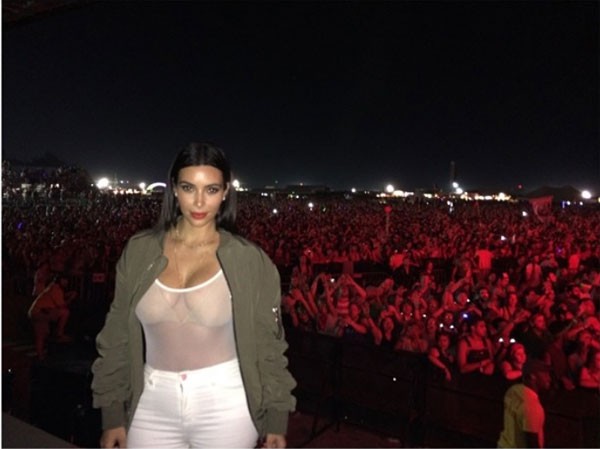 Newly married Kim Kardashian supported her husband Kanye West at the Bonnaroo Music Festival in Tennessee on Friday night.
The reality star posted a provocative photo of herself wearing a see-through top and nude bra, showing off her cleavage with thousands of people in the background. She captioned the image on Instagram: "Oh hey 100,000 people! #Bonnaroo."
In a second image, Kardashian holds what appears to be two glasses of wine as West smiles for the camera. "#YASSSSSS just rocked Bonnaroo," she wrote.
Earlier this week, the "Keeping up With The Kardashians" star shared some photos from her honeymoon in Mexico. She wore a white bikini and took a selfie of her belly and legs.
The newlyweds relaxed in a Punta Mita, Mexico, villa courtesy of pal and "Girls Gone Wild" creator Joe Francis, who she thanked on Instagram with a photo of a pool, beach and two cocktails.
Kardashian and West tied the knot in a lavish ceremony in Italy on May 24. They honeymooned in Europe before heading to Mexico. Even though the rapper is back to work, it looks like the couple are still having a lot of fun.