Kim Kardashian Flashes Bag Covered In Naked Ladies From Kanye West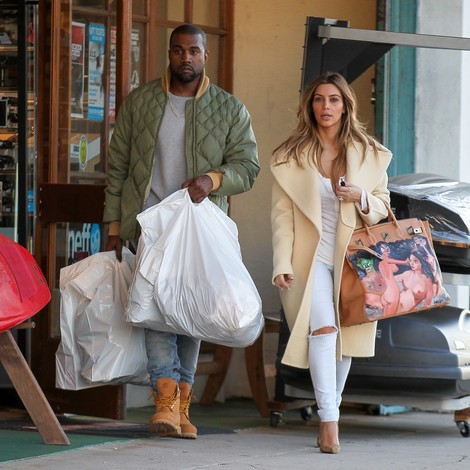 Kim Kardashian got a special Christmas gift from her fiance Kanye West - a handbag covered with nude figures.
The one-of-a-kind, brown leather Hermes Birkin bag was handpainted by contemporary artist George Condo and features four naked figures painted on one side. The central femal character looks contemplative, while the other three figures appear to have ghoulish faces.

Kim posted an image of the bag on Instagram with the caption: "#HandPaintedGeorgeCondo #HermesBirkin#OneofOne #ChristmasPresentFromYeezy."

She loved her gift, but not everyone was as impressed with the accessory. One fan wrote: "will she really take this out in public or convince him its art to stay indoors? ugly offensive art for a purse, wth Hermes, u failed."
Another user noted: "Sorry but that bag is ugly and should not be carried in public!!!!"
Ouch!
Well, Kim did take the bag out in public. On the day after Christmas she and Kanye stepped out for some post-Holiday shopping in Los Angeles, and she proudly slung the bag over her arm.
Kanye and the bag's artist have worked together in the past. Condo created several portraits for the rapper's 2010 album "My Beautiful Dark Twisted Fantasy," including the controversial cover, which shows a naked Kanye being straddled by a female with no arms.