Kim Kardashian Finds A Quick Fix To Hide Her Psoriasis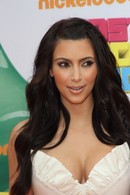 Newlywed socialite and reality TV star Kim Kardashian has found a breakthrough in her battle with psoriasis.

Kardashian, who revealed all about her skin condition on TV show Keeping Up With the Kardashians, has tried all manner of treatments without success, but now she's on top of the complaint - and she has posted before-and-after photos on her blog to promote the new spray she's using.

She writes, "I'm using Sally Hansen Airbrush Legs spray and it is my lifesaver at the moment! I love this stuff! It really covers up my psoriasis so well!"