Kim Kardashian Finally Lands Cover Of Vogue Magazine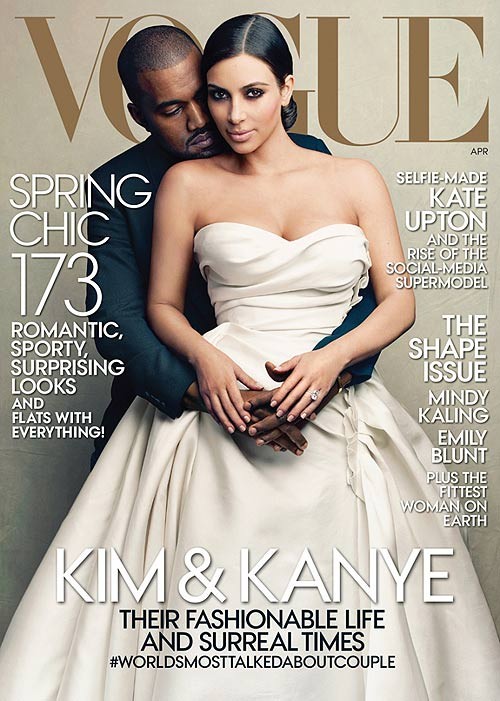 Kim Kardashian has finally landed herself on the cover of Vogue magazine, which is usually reserved for people who actually do something.

Thats's the thought editor Anna Wintour supposedly maintained since May 2012, when sources told website Radar Online that Wintour banned Kim from attending the Metropolitan Museum of Art Costume Institute Gala, and that she "would allow Kim Kardashian on the cover of Vogue over her dead body."

"As long as Anna in charge you will NOT see Kim on Vogue," the source added.

Unfortunately that source was wrong, because Kim and fiance Kanye West are both sharing the April cover of the magazine. Numerous sources reported on Friday that Kanye begged

Loads of Vogue readers were disgusted by the move, lighting up Twitter with comments saying things like they felt "betrayed" and were canceling subscriptions.

One of those was actress Sarah Michelle Gellar, who's been in two Scooby Doo ,a href="http://www.starpulse.com/Movies/Scooby_Doo_2/">films and zero sex tapes.

"Well......I guess I'm canceling my Vogue Subscription. Who is with me???" Gellar wrote.

But Wintour defended her decision, writing in her letter from the editor, "Part of the pleasure of editing Vogue, one that lies in a long tradition of this magazine, is being able to feature those who define the culture at any given moment, who stir things up, whose presence in the world shapes the way it looks and influences the way we see it.

"I think we can all agree on the fact that that role is currently being played by Kim and Kanye to a T. (Or perhaps that should be to a K?)."

Wintour added that the idea to put the couple on the cover had nothing to do with Kanye her "to put his fiancée on Vogue's cover, [but] he did nothing of the sort. The gossip might make better reading, but the simple fact of the matter is that it isn't true."

Check out Kimye's feature in the April issue of Vogue magazine. You know you will.