Kim Kardashian Channels Brigitte Bardot In New Lingerie Photoshoot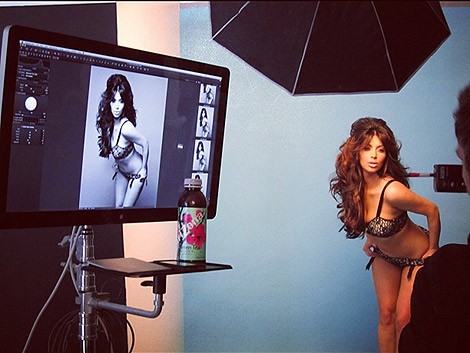 Kim Kardashian tweeted a sexy new picture of herself from behind-the-scenes of a new photoshoot. The socialite, clad only in some barely-there black lace lingerie and and a bouffant hairdo reminiscent of French screen legend Brigitte Bardot. Kim posted the image to photo sharing website Instagram, which was just bought by Facebook for $1 billion.

Kim, rumored to be dating rapper Kanye West, and sister Khloe were involved in a road rage incident earlier this week. On Wednesday, the two sisters were filming for one of their hit shows when a woman reportedly tried to run them off the road in Los Angeles. The socialite sisters then confronted the driver, who Kim claimed later via Twitter works for CBS Sports.

"This driver tried to hit us and run while video taping it. She works for CBS Sports. Wow drivers beware," Kim Tweeted. (A rep for CBS denied the claims that the woman works for CBS sports).

As far as Kim and Kanye go - on Wednesday Khloe told Ellen Degeneres, "Honestly, we've known Kanye forever... He's been a great family friend."

"I love Kanye, I think they're cute together… They're compatible. I think friendship is where good relationships stem from," she adds.