Kim Kardashian And Kris Humphries Marry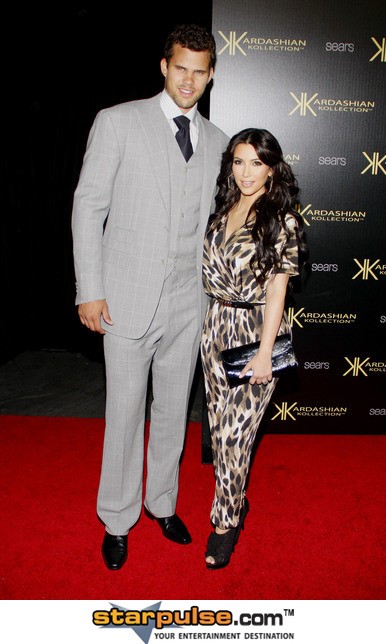 Kim Kardashian and NBA basketball player Kris Humphries have exchanged vows at a private estate in Montecito, California.

The couple wed on Saturday evening.

Kardashian wore a custom Vera Wang gown reportedly inspired by the dress Pippa Middleton wore to the royal wedding in England in April. The bridesmaids and Kardashian's mother also wore Vera Wang dresses.

Celebrity guests included Eva Longoria, Lindsay Lohan and Melanie Brown, who had feared her pregnancy would keep her from the big day.

Earlier this week she told Access Hollywood, "I'm hoping I'm gonna be there. Obviously I want to see my friend get married and it looks like it's gonna be a beautiful evening, it's gonna be a beautiful wedding. So, fingers crossed."

Basketball superstar Carmelo Anthony and wife, Kim's best friend La La Vasquez, were on hand; along with boxer Sugar Ray Leonard were also present at the nuptials, as were members of Humphries' New Jersey Nets team.

Prior to the big event, Kardashian took to her blog to thank friends and family who had helped her plan the wedding, and urged fans to leave a comment in her Virtual Wedding Guestbook on the site.

She wrote, "I can't believe it's finally here! Thank you so much to everyone who made this day happen!!!!! You guys mean the world to me, and I want to thank you for all your love and support."

Meanwhile, proud mum Kris Jenner used her blog to honor her daughter on the morning before the ceremony.

She wrote, "Kimberly, I still remember you as a little girl playing dress up in my closet like it was yesterday!! I can't believe the time has flown by so fast.. I am so very proud of you and I am so happy you have found such happiness!

"I know you and Kris will be very happy together and you have found someone to grow old with. You will always be my little princess angel, and you are going to make the most amazing wife. You are truly blessed. I love you with all my heart."
Kim's wedding dress on her wax figure at Madame Tussaud's in Hollywood: