Kim Kardashian And Kanye West Are Dating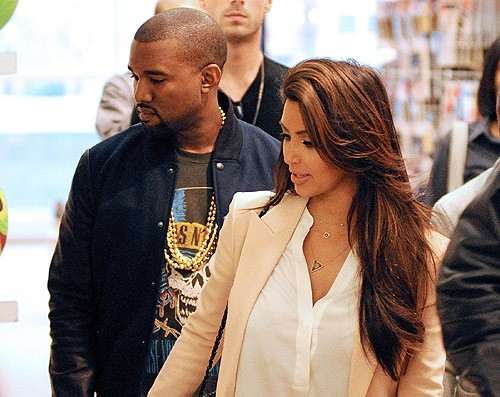 "I'm not even close to dating again!" socialite Kim Kardashian says in the May issue of Cosmopolitan UK. But the reality star's words may have been printed a little too soon - as she's reportedly begun to get a little closer with rapper Kanye West.
Kim, who's in New York City to co-host the Today Show on Friday, was spotted leaving Kanye's apartment building Thursday morning after the two reportedly went to see box office smash The Hunger Games Wednesday night together - sparking rumors that the two friends are taking their relationship to the next level.

The two were then seen on a lunch date at NYC's Serafina restaurant and shopping together at various hot-spots around the city, including toy store FAO Schwarz. They appeared to keep their distance on the streets and entered shops separately, but reportedly got a bit closer once they were out of view of cameras.

Although neither Kanye, 34, or Kim, 32, have confirmed the relationship, a source told PEOPLE magazine that, "Kim and Kanye have now just started dating," but the couple are only testing the waters to "see where it goes".

But Kanye also released a new single called "Theraflu", in which he raps about his feelings for the Keeping Up With the Kardashians star - and it sounds like he's diving in head first!

"And I admit I fell in love with Kim..." he raps; "'Round the same time she fell in love with him... That's cool, babygirl, do your thing... Lucky I ain't had Jay drop him from the team."

Kanye references Kim's ex-husband of 72 days, Kris Humphries, and pal Jay-Z in the song, too. Humphries plays for NBA's New Jersey Nets basketball team, which is, ironically, co-owned by rapper Jay-Z.

And Kim is reportedly planning on keeping her new relationship from being filmed and shown on any of her reality shows. A smart move, considering what happened last time.
See more pics of Kim from the May Cosmo UK and with Kanye in New York City on Thursday on the following pages...