Kim And Kourtney Kardashian Have A Girlie-Parts 'Smell-Off'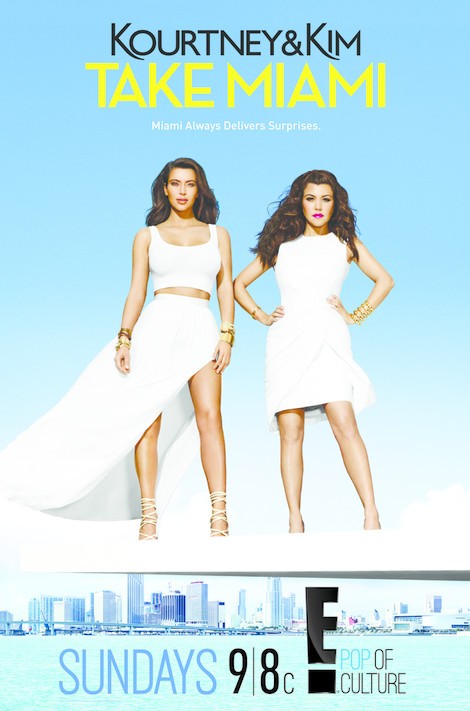 During Sunday night's episode of Kourtney & Kim Take Miami, the show's three stars, Kourtney, Khloe and Kim Kardashian were up to their usual antics once again, this time coming up with the idea to figure out whose vagina smells better. Seriously.

The three sisters were in London to launch their fashion line in this latest episode, and during some down time at their hotel Khloe explained to her sisters that drinking pineapple juice makes things "sweeter" down there.
Next thing you know, Kim and Kourtney are preparing to have "a vagina smell-off." They decide that after a week of drinking enough pineapple juice to create a few new jobs in Hawaii they would get Khloe to judge whose, er, aroma is better..

"If I'm going to win this I need to get as much pineapple juice as I can," said Kourtney, who was even spotted at the sisters' fashion launch drinking a glass next to British businessman Sir Phillip Green. "It makes the vag smell good."

Kim was up for the challenge, though, saying, "Kourtney seems very competitive about her vagina. I don't know why Kourtney is challenging me - but she will lose."

Khloe wasn't exactly thrilled about having to get up close and personal with her sisters' privates, either.

"Do I want to be the judge of the pineapple pu**y? Not really," she said. "But we're sisters. If I can't smell their pu**ies, what else am I supposed to do?"

Naturally, the part everyone was waiting for arrived and Kourtney and Kim wiped their genitals with hand towels so that Khloe could sniff them.

After telling Kourtney that hers "smells like a tropical island," it was Kim's turn.

"I'm not smelling Kanye's d**k," Khloe joked, before taking in the smells on Kim's towel.

"Ooh! It smells like a flower pu**y," Khloe said. "Honestly, I will say that Kim's pu**y is the best," she added. "She's the kitty winner."

Kourtney wasn't too happy with the results though.

"If Kim needs to think she's won, then fine, I'll let her think that, but we all know whose vagina is the sweetest of them all," she said.
As For Khloe, who did not participate in the sharing of scents, her own vajayjay found its way into the episode as well. She learned that Ben Wa Balls "tighten things up," so she bought a pair and gave them a try.
"Ben Wa Balls baby - my pu**y is going to be tighter than it's ever been before!" she exclaimed after buying them.
And, of course, she needed Kourtney's help to get them out.  We'll leave that one to your imagination.

Catch "Kourtney & Kim Take Miami" Sunday nights at 9 on E!

If all that talk about the Kardashian sisters compairing their feminine odors doesn't do it for you, check out this clip from Sunday night's episode, where Khloe grabs Kourtney's lactating boobs...