Kiefer Sutherland Broke Two Fingers & Split His Pants On Mechanical Bull Ride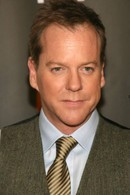 Actor Kiefer Sutherland was once left desperately trying to maintain his dignity after a raucous ride on mechanical bull left him exposed.

The 24 star was a guest on Britain's The Jonathan Ross Show this week, and watched on in amusement as former England cricket player Andrew Flintoff rode a mechanical bull in front of a cheering audience.

The stunt sparked an embarrassing memory for the actor, who revealed he once was left with a busted hand and a split pair of jeans when he went wild on one of the rides.

He told Ross, "I broke two fingers and I split my pants from the crotch all the way up to the back of my belt.

"And it was one of the nights I wasn't wearing underwear, so it was the longest exit out of a bar I've ever had because I had to get the two pieces of jean clenched in my bottom and literally had to walk out and then get my fingers fixed."

The episode airs in the U.K. on Saturday.